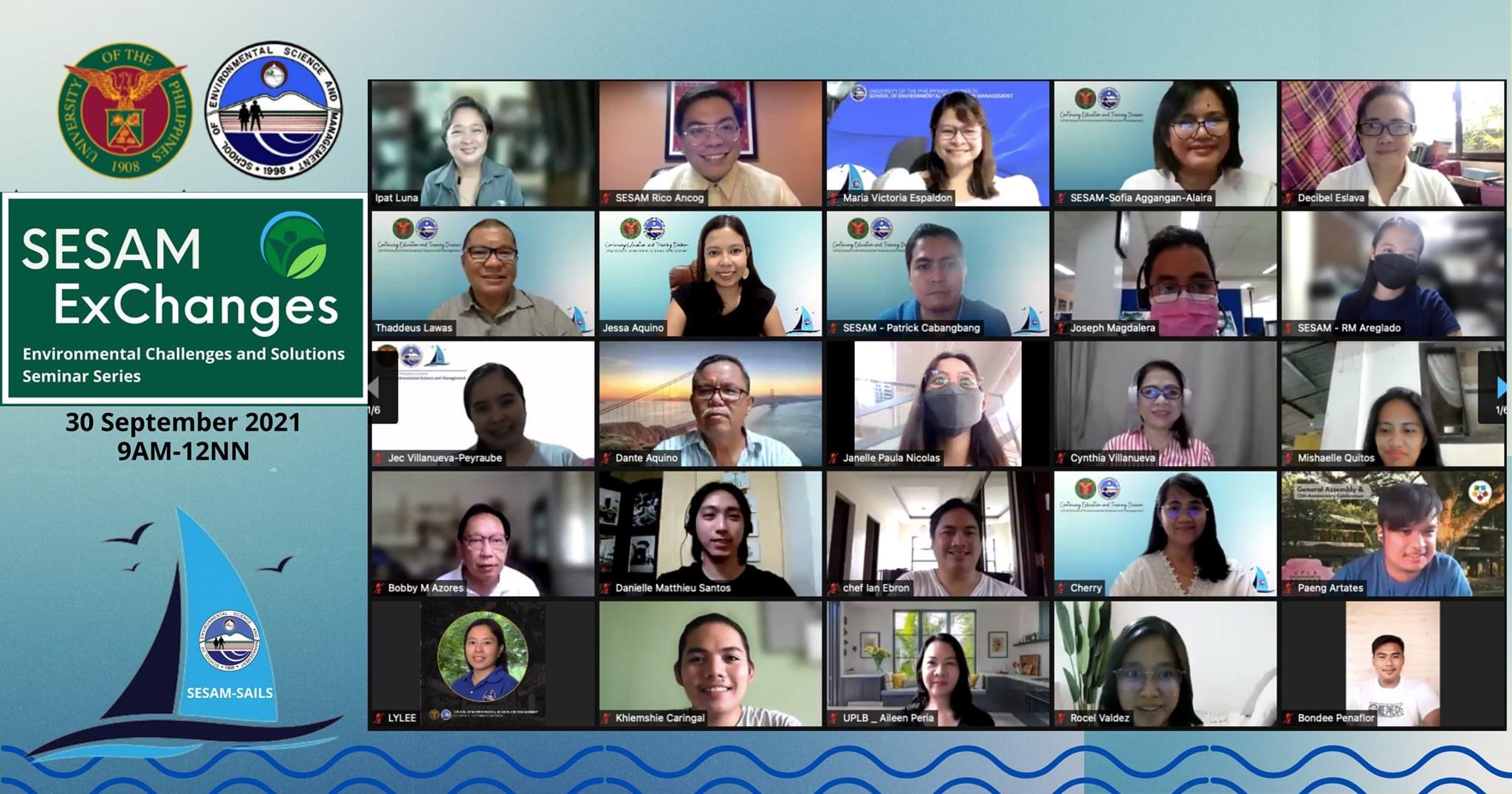 The University of the Philippines Los Baños School of Environmental Science and Management (UPLB-SESAM), through its Continuing Education and Training Division (CETD), has launched a new seminar series called "SESAM ExChanges: Environmental Challenges and Solutions". The launching event, held on 30 September 2021 via online conferencing and Facebook live streaming, also served as an avenue for UPLB-SESAM to introduce the other capacity building programs of CETD that intend to gain greater public participation to promote environmental awareness and advocacy in the country. The event attracted more than 180 participants from different offices, academic institutions, and government and non-government agencies in the country.
SESAM ExChanges aims to bring together scientists, researchers, and policy makers to not only talk about environmental challenges but most importantly to also complement with the discussions about solutions.
In his opening remarks, UPLB Chancellor, Dr. Jose V. Camacho, Jr., mentioned that SESAM has always been a key figure in advancing the discipline and practice of environmental science and management in the country for more than two decades now.
Continuing the hard work of the UPLB-SESAM pillars in further understanding and strengthening the country's environmental sector, the School aims to do more and level up its extension work through SESAM ExChanges.
"This learning event series is promising treasure to hone possible solutions that we can explore and implement to address environmental challenges", Chancellor Camacho added. He also commended the UPLB-SESAM Dean, Dr. Rico C. Ancog, and the rest of the team for "not only leading and organizing this event but more so for actively finding ways to level up the teaching, research, training, and partnerships in environmental science and management."
Dean Ancog welcomed the participants and also expressed his gratitude to Chancellor Camacho for the all-out support. He also thanked the Keynote Speakers, the two dedicated women in championing the environment, Congresswoman Loren B. Legarda (lone district of Antique Province) and Atty. Ma. Paz "Ipat" G. Luna, for the time and effort to join the event.
According to Dean Ancog, SESAM as the CHED Center of Excellence in teaching and research in environmental science, is very dedicated to advancing science and the practice of environmental science as a discipline. He also added that, together with the SESAM faculty members, researchers, administrative staff, its students, and its alumni, SESAM is committed to bring positive change to solve environmental problems. With the mantra, SESAM SAILS (Sustainability and Accelerated Innovations in Learning and Solutions), the School makes sure to champion sustainability and translate it into concrete solutions.
Dr. Ancog also emphasized the importance of reaching everyone, from the people who must take the lead in creating solutions down to the organizations and even to the respective localities, and every family. He believed that together, "we can move forward in achieving positive change for the environment".
He then introduced the hardworking SESAM Research, Extension and Professional Staff (REPS) who are behind the success of every work of the CETD. This Division is headed by For. Sofia A. Alaira, with members- Dr. Thaddeus P. Lawas, EnP Jessa O. Aquino, Mr. Robert Patrick M. Cabangbang, and Ms. Cherry S. Padilla.
"CETD is our very arm in really championing the extension work, capacity building, training, and public service to a number of different partners and the very communities that we want to really serve", Dr. Ancog stressed.
The CETD works around its five thematic focus areas, namely: 1) Environmental Science Advocacy and Awareness Raising, 2) Environmental Capacity Building and Technical Assistance, 3) Youth Environmental Leadership and Stewardship, 4) Partnerships, Cooperation, and Linkages for the Environment, and 5) Technology, Policy, and Innovations for the Environment.
The Honorable Loren B. Legarda, concurrently a Deputy Speaker of the House of Representatives mentioned in her message that in early 2007, she filed Senate Bill 1395 to institutionalize an environment and natural resource accounting system.
"Today, we see clear opportunities as the financial and economic sectors of the society are finally realizing that failure to value and therefore invest in caring for our natural resources is an asset portfolio management issue", Congresswoman Legarda added.
According to her, large scale mass tourism has led to ecosystem collapse that needed massive interventions and closures that severely affected the economics of these areas. The solution to this, as Congresswoman Legarda discussed, is that we must instead have a pandemic-resistant industry of small-scale, outdoor establishments that bring people closer to nature.
She introduced the Philippine Ecosystem and Natural Capital Accounting System or the PENCAS Bill — House Bill 9181, which is, according to her, needs a whole government approach, because as a nation, there is a need to bond together to find out the value of what we stand today by safeguarding our ecosystems and habitats.
"Indeed, there is no time to lose", said Congresswoman Legarda at the end of her message.
Hon. Legarda was joined by Atty. Ma. Paz "Ipat" G. Luna to discuss the Status of Environmental Policy and Governance in the Philippines. In her presentation, Atty. Luna painted a very good picture of the environmental governance and policy in the Philippines. "I'm still hopeful I wouldn't be in this line of work if I wasn't hopeless", she said.
On the highly publicized Manila Bay issue, Atty. Luna said that it will take more than planning to do solve Manila Bay's problem, since 80 to 90% of Manila-based pollution is from domestic wastewater. She added that what really needs to happen is the strict implementation of the sewerage plan. "Manila Bay, therefore, the solution really is better water treatment and storage coverage", she stressed.
As an organization dedicated to supporting and giving service to the environment and to the people, SESAM continues to sail in every challenge brought by the modern times; and with the new administration under the leadership of Dr. Rico C. Ancog, he invited everyone to sail with the SESAM Family (Rosemarie Laila Areglado).