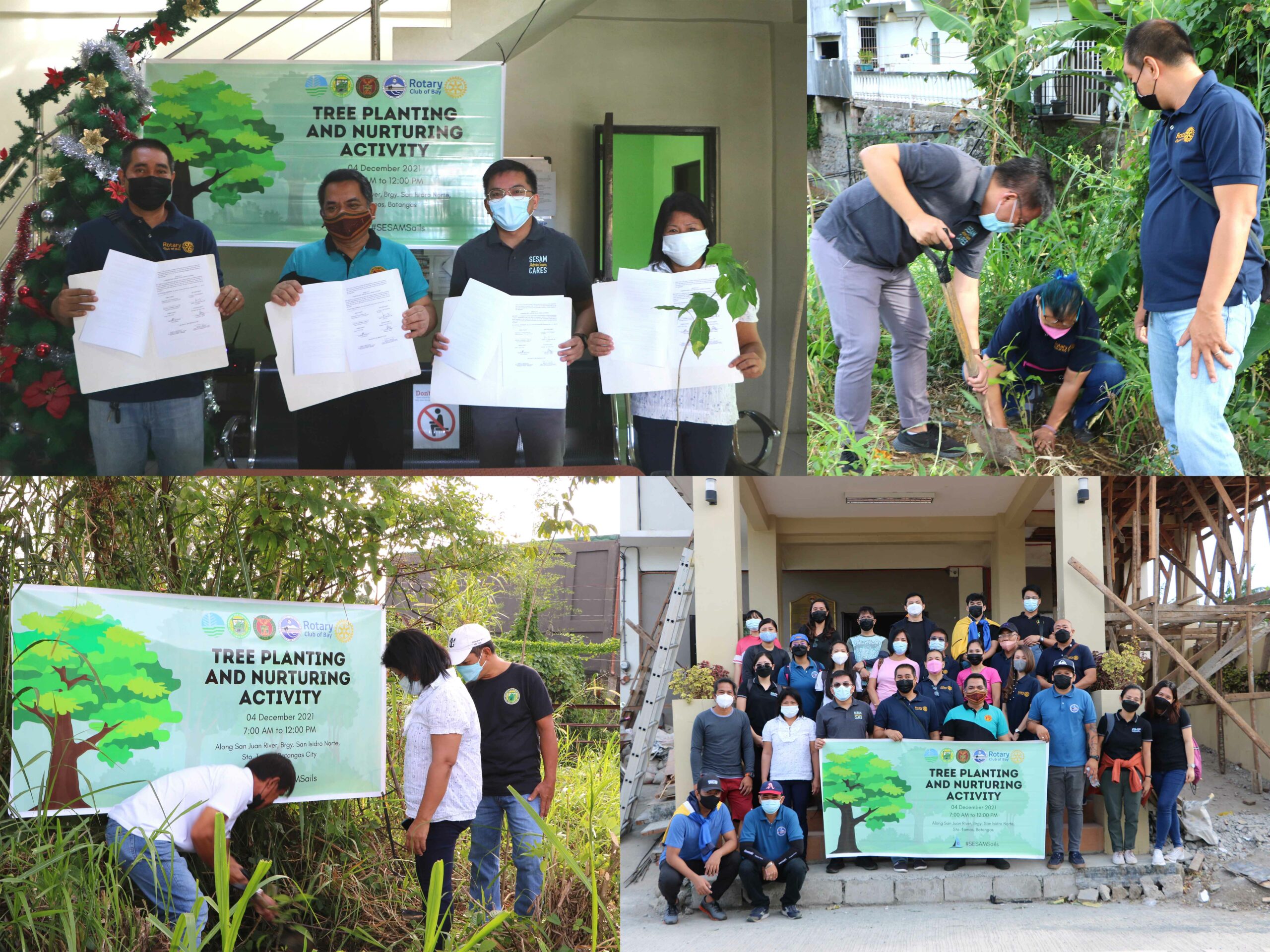 The University of the Philippines Los Baños-School of Environmental Science and Management (UPLB-SESAM) conducted a Tree Planting and Nurturing Activity on 4 December 2021 at the Municipality of Sto. Tomas, Batangas. This event is in partnership with Rotary Club of Bay, Sangguniang Barangay of San Isidro Norte, Sto. Tomas, Batangas, and the DENR Community Environment and Natural Resources Office (CENRO) of Lipa City, Batangas.
This tree planting and growing activity is one of the School's outreach programs to demonstrate and extend commitments to the environment and the community as well. This activity also fosters and enhances multi-stakeholder collaboration towards greener earth with sustainable and secure water resources.
The participating agencies and individuals were warmly welcomed by the Sangguniang Barangay of San Isidro Norte headed by the Barangay Captain, Hon. Sarah J. Edos. UPLB Chancellor, Dr. Jose V. Camacho, Jr. also joined and graced the event.
"This is a very important event in improving the state of our environment and natural resources as well as in future-proofing the generations to come", said Chancellor Camacho. He also added that these trees will prepare us for challenges like climate change.
Another message was given by the Rotary Club of Bay President, Engr. Gilbert Hidalgo. He said that the Rotary Club of Bay is very active in this kind of project and initiative. They believe that tree planting and nurturing is one that we can contribute to nature. As Earth habitants, "our major responsibility is to care for the environment," he added.
In his opening message, Dr. Rico C. Ancog, UPLB-SESAM Dean, highlighted that SESAM is always in the forefront in championing environmental advocacies.
"This kind of activity is an attempt to capture sustainability. And SESAM makes sure that there is sustainability and plans that translate into concrete actions", said Dr. Ancog.
He also thanked all SESAM staff, the Rotary Club of Bay, Sangguniang Barangay of San Isidro Norte, DENR-CENRO Lipa, and Chancellor Camacho for unwavering support to the School.
On behalf of the DENR CENRO of Lipa, Mr. Allan Willard M. Estillore, Forester Camille Pauline Peria also gave an opening message and an overview of the tree planting activity together with the DENR-CENRO Technical Staff, Mr. Jun Macalintal.
The opening program was followed by the signing of the Letter of Agreement. It is a multipartite agreement for the sustainability of the project. It contains the roles and responsibilities of the four parties: DENR CENRO Lipa, Barangay San Isidro Norte, UPLB, and Rotary Club of Bay.
The tree planting site is within the 15.9 hectares of the National Greening Program of the DENR. It is along the stretch of the San Juan river bank in Barangay San Isidro Norte, which is connected to Laguna de Bay. The trees planted are molave (Vitex parviflora) and narra (Pterocarpus indicus). A total of 150 seedlings are planted. This activity was organized by the SESAM Committee on Tree Planting chaired by Dr. Eduardo C. Calzeta and co-chaired by For. Sofia A. Alaira.