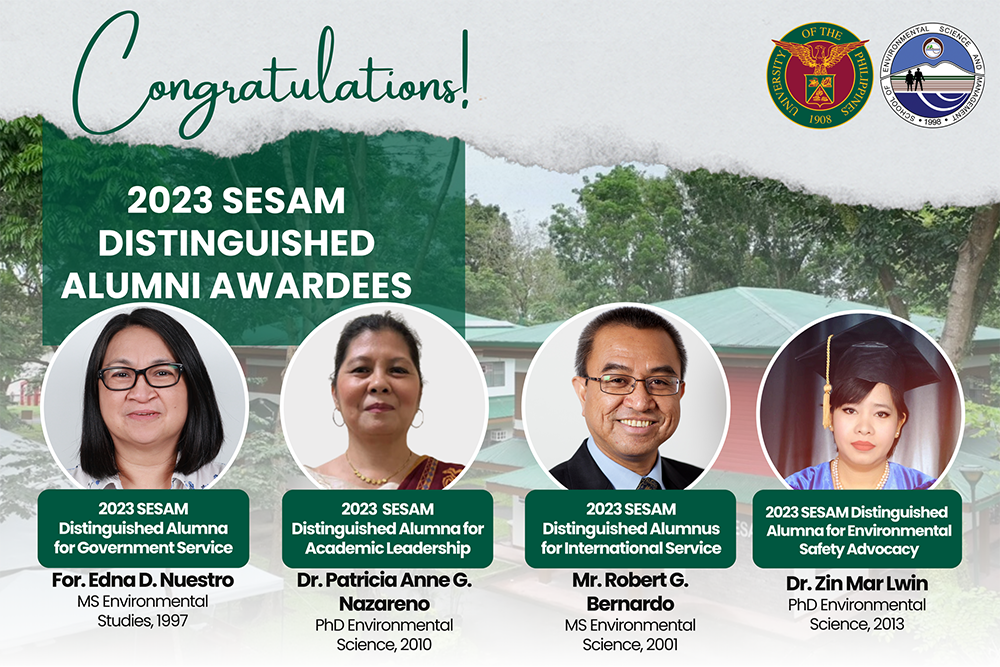 The School of Environmental Science and Management-University of the Philippines Los Baños (SESAM-UPLB) celebrated the 105th Loyalty Day with an alumni homecoming symposium last October 9, 2023 at the SESAM Academic Quadrangle.
With this year's Loyalty Day theme "UPLB Alumni Moving Towards Sustainable Stewardship of Natural resources", SESAM feted four distinguished alumni who were outstanding on their respective fields.
The four 2023 distinguished alumni awardees were For. Edna D. Nuestro for government service; Dr. Patricia Anne G. Nazareno for Academic Leadership; Mr. Robert G. Bernardo for International Service; and Dr. Zin Mar Lwin for Environmental Safety Advocacy.
During the opening program, Dr. Mari-Ann M. Acedera, President SESAM Alumni Association mentioned that SESAM alumni always look forward to attending the loyalty day as they take the opportunity to not just to reunite with colleagues and friends but to commemorate UPLB's strengths and recall the sacrifices of the pioneers that stands for the honor, service and excellence.
In his message, Dr. Rico C. Ancog, Dean of SESAM-UPLB said the holding of this symposium will highlight the work and the contribution and the accomplishments of this year's awardees who then reflect of the quality of the alumni that we have produced all these years.
For. Sofia Alaira, SESAM Alumni Relations Officer and Secretary, SESAM Alumni Association said that the aim of this symposium to fete the distinguished alumni of the school and recognition of their exemplary performance of their mandates in their respective sectors.
For. Nuestro, graduated MS Environmental Studies in 1997 is currently the OIC-Assistant Director of the Forest Management Bureau, Department of Environment and Natural Resources (FMB-DENR). She emphasized that the strategies currently implemented by the DENR are as follows: the Ecosystems-Based Approach; Integrated Water Resources Management; establishment of a national resource geospatial database; and nature-based collusions. In the state of the Philippine Forest, For. Nuestro said the FMB is focused on the increase of forest cover of the country, which is currently 2% in the prescribed five-year period. "Currently, we have 15 million hectares of forest land, however, only 7.2% have forest cover", she added.
Dr. Nazareno, Vice Chancellor for Academic Affairs UP Cebu, who graduated MS Environmental Studies in 1999 and PhD Environmental Science in 2010, stressed that in caring for the environment, there must be a passion. "As faculty, REPS and administrative staff, it is our profession to care of the environment, however if we think about it as work, sometimes it becomes tiring, frustrating and stressful, that's why we need to have the passion for it, and I saw this passion from my professors when I was a student and this inspired me", she added. Dr. Nazareno's research interests include waste management, utilization of underutilized natural materials for environmental rehabilitation and food security; and water quality assessment.
Mr. Bernardo, graduated MS Environmental Science in 2001 is currently the Team Leader, Governance and Peacebuilding Team, UNDP Istanbul Regional Hub, Regional Bureau for Europe and CIS. "I am truly humbled and grateful for this recognition that UPLB-SESAM have accorded me… after graduation in 2001, I had an inspiring and challenging journey in my career and this won't be possible without the wheels and wings that equip me during my student days", Mr. Bernardo said.
Dr. Lwin who graduated Ph. D. Environmental Science in 2013, is currently a principal consultant in SESAM and working for ESIA study of Mandalay-Bagan Railway-Road rehabilitation project of MOT. The 2023 Distinguished Alumnae for Environmental Safety and Advocacy is also the head of department of the Environmental Science of Dekina ABMI and she provides technical trainings and services for farmers. "This award is very meaningful to me, not only because it recognized my work, but especially because it shows increased recognition of the importance of environmental safety advocacy", Dr. Lwin stressed.
In her closing message, Dr. Maria Victoria O. Espaldon, former SESAM Dean and UPLB Vice Chancellor for Research and Extension, congratulated the awardees for their achievements. "SESAM has produced a great number of professionals from different countries who are contributing to nation building, job creation and in their efforts to overtake and be adaptive in the new environment" she said.
SESAM faculty, REPS, administrative staff, project staff and students, as well as officers of the SESAM Alumni Association attended this hybrid alumni symposium.