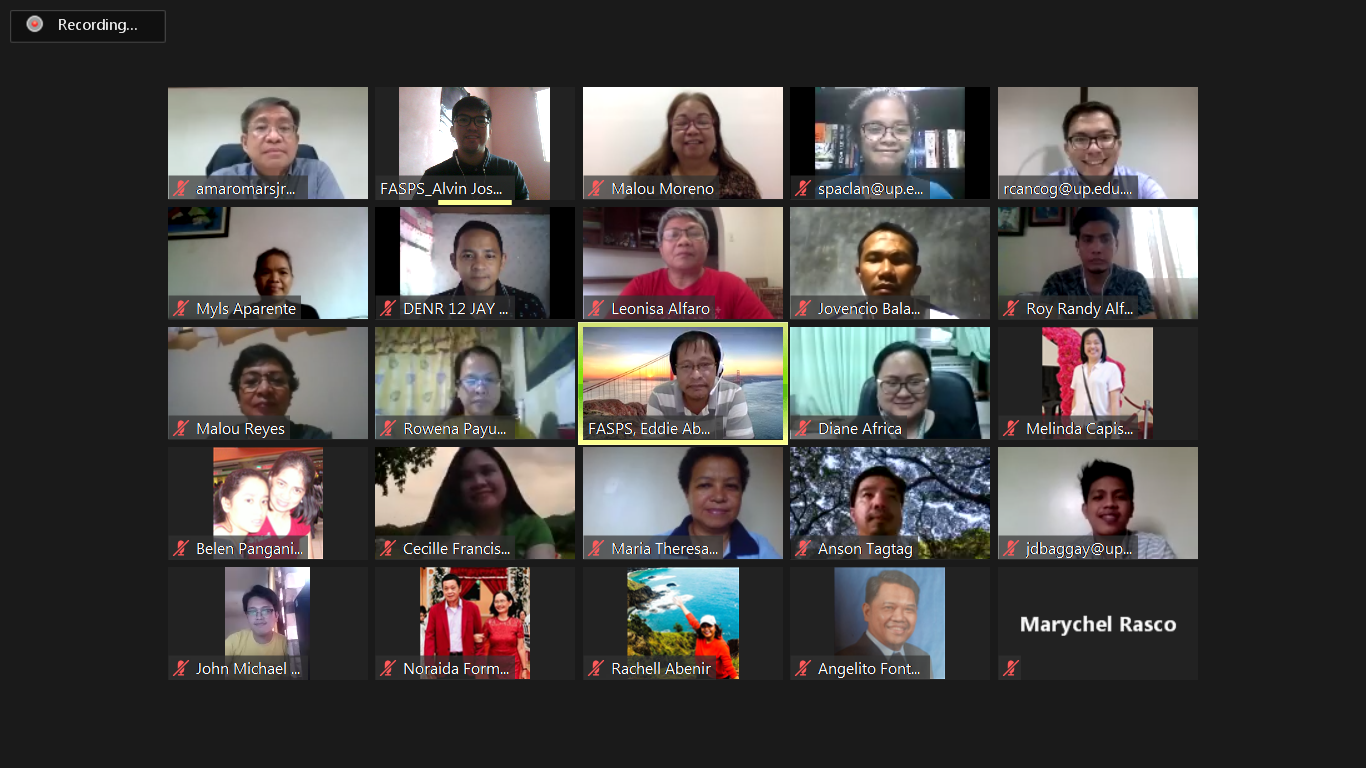 As part of the project entitled "Environmental, Socio-cultural, and Economic Valuation of Piper aduncum in the Allah Valley Protected Landscape (AVPL) in Mindanao, Philippines", the Ecosystem Services and Environmental Policy Laboratory of the School of Environmental Science and Management-University of the Philippines Los Baños (SESAM-UPLB), conducted a virtual training and validation workshop last 20 August 2020. This project, with funding support from the Department of Environment and Natural Resources (DENR) is led by Dr. Rico Ancog, Associate Professor 5 of SESAM-UPLB.
Twenty-six participants consisting of representatives from various DENR Bureaus and attached agencies attended the training. The day-long virtual event saw the presentation of policy recommendations and measures to combat the existing threats of invasive species in AVPL. During the morning session, Dr. Rico Ancog presented the initial findings of the baseline data gathering and introduced the excel-based valuation tool developed by the project team.
To introduce the tool, key concepts related to the cost-benefit analysis applied to invasive species management in protected areas was discussed. During the afternoon session, Dr. Rico Ancog and Ms. Stellah Aclan trained selected participants on the use of the excel-based valuation tool to quantify the impacts of Invasive Alien Species (IAS).
Dir. Angelito V. Fontanilla of the DENR Foreign Assisted and Special Project Services delivered the opening remarks. Dr. Fontanilla highlighted the significance of the project to produce sound policy recommendations not just on the context of IAS in protected areas but also in relation to biodiversity preservation. In addition, Dr. Fontanilla also emphasized the importance of the presented results as input to the ongoing projects related to the National Greening Program.
Mr. Eddie Abugan, Chief of the Project Preparation Division of FASPS, also actively participated and raised some of his insights during the valuation/training workshop. Furthermore, he commented on the importance of the over-all appreciation on the process of cost-benefit analysis. Ms. Melinda Capistrano, Chief of the Planning and Programming Division, also commented that although the presentation and the training/workshop is highly technical, it is important for the regional offices to understand how economic valuation concepts can be applied to the ground. To do this, it is necessary to do series of hands on computations to guide regional offices through the learning process.
Lastly, DENR Assistant Secretary Marcial Amaro Jr. commended the project team for giving an extensive walk through on the excel based valuation tool developed. He related that although the process is indeed overwhelming, it is important to grasp the overall process shown by the developed excel based tool to further craft effective policies related to the increasing impacts of invasive species.
In general, the virtual training/validation workshop provided awareness on the impacts of IAS in the Philippines by presenting findings in relation to the case of P. aduncum in AVPL. The virtual event also provided a learning venue for participants on applying Cost-Benefit analysis to assess the impacts of IAS on a protected area. Most of the participants commented on the importance of pursuing science-based research when implementing policy measures on the ground. Since the validation/training workshop for the excel-based valuation tool was originally designed as a face to face workshop, most participants highlighted the limitations of the virtual set-up. The training/workshop also provided the project team with relevant insights and information to further refine the excel-based valuation tool and deliver the results to the ground level using a more effective approach. Thus, the over-all appreciation of the participants on the tool developed and the inputs gained by the project team generally contributed relevant information to address the issue on the existing impacts of IAS in the Philippines by looking into the case of Piper aduncum in AVPL. (Stellah Aclan)