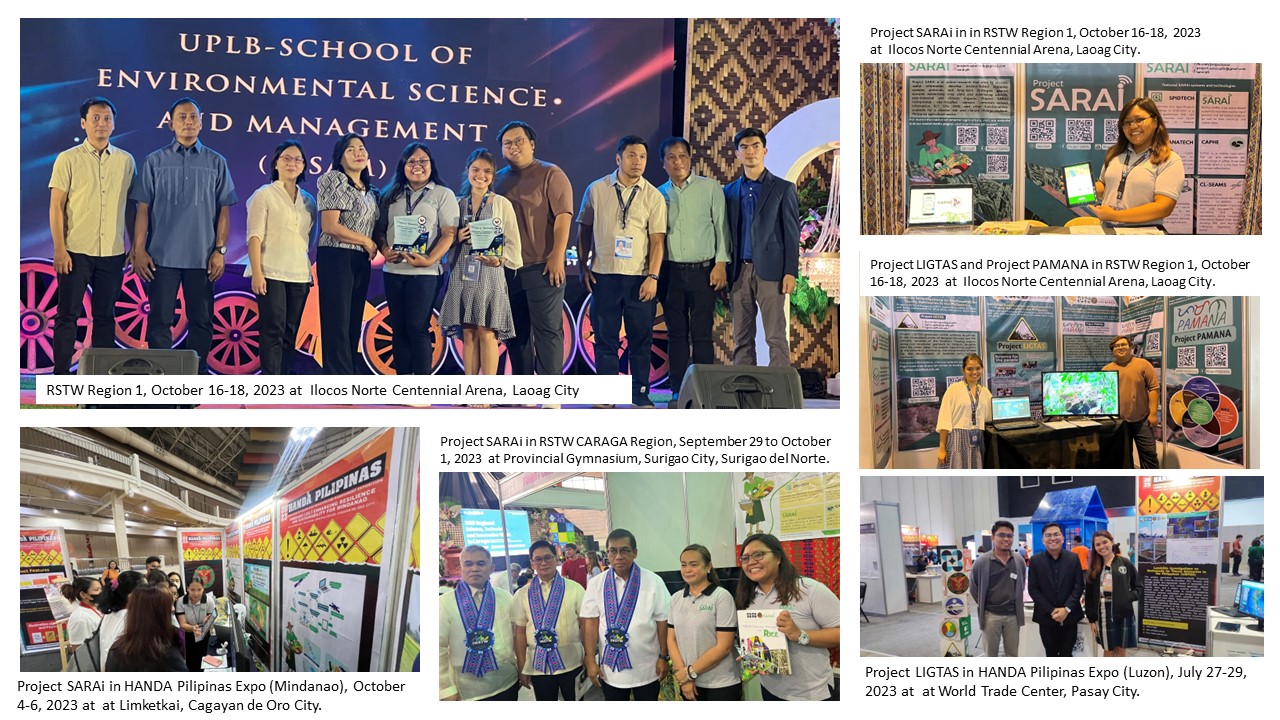 The UPLB School of Environmental Science and Management (SESAM), through the Earth Systems Research Team Laboratory – EaRTLab, participated in a series of technology expo and exhibitions across the country. The events showcased technologies on disaster risk reduction and management, sustainable mining, and climate-smart agriculture in the different regions.
In coordination with the Department of Science and Technology (DOST), SESAM showcased two DOST-funded projects in the HANDA Pilipinas: Innovations in Disaster Risk Reduction and Management (DRRM) Expo 2023 Luzon Leg which was held at the World Trade Center, Pasay City from July 27-29, and for the Mindanao Leg from October 4-6 at the Limketkai Atrium, Cagayan de Oro City. Project Landslide Investigations for Geohazards for Timely Advisories in the Philippines (Project LIGTAS) showcased its national landslide database and rainfall-induced landslide early warning system (RILEWs) with the component on citizen science reporting, and the LIGTAS portal (www.ligtas.edu.ph). The project "Smarter Approaches to Reinvigorate Agriculture as an Industry in the Philippines (Project SARAi)" showcased its developed climate-smart technologies and systems, including the Smarter Pest Identification Technology or SPIDTECH, and the Community-Level Enhanced Agricultural Monitoring System (C-L SEAMS), among others. Bringing HANDA around the country, the same set of technologies were also showcased in the HANDA Pilipinas 2023 – Visayas Leg held last November 8-10, at Summit Hotel, Tacloban City.  Dr. Loucel E. Cui, LIGTAS Project Staff also presented Project LIGTAS under the DOST-Philippine Council for Industry, Energy and Emerging Technology Research and Development (PCIEERD) monitored projects in the Paglikay: Disaster Prevention and Mitigation Technologies Forum.
Spearheaded by the DOST-CARAGA, SARAi also joined in the celebration of the 2023 Regional Science, Technology and Innovation Week (RSTW) in CARAGA Region last 29 September to 1 October 2023, at Provincial Gymnasium, Surigao City, Surigao del Norte. The systems and technologies of SARAi were exhibited in the three-day event along with other contributions of science and technology to national development. During the RSTW, Dr. Decibel V. Faustino-Eslava, SARAi project leader, also represented Project SARAi in the Policy Brief Presentation, Technology Pitching and Forum on DOST Research and Development Outputs.
Another RSTW also featured Project LIGTAS, Project PAMANA, and Project SARAi in Region 1 from October 16-18 at the Ilocos Norte Centennial Arena, Laoag City. The Project Philippine Mining at the National to Catchment Scale: From Legacy Impacts to Sustainable Futures (Project PAMANA) was also featured in the exhibit. This three-day event was organized by DOST Region 1 and promoted important projects, scientific discoveries, and technological achievements that support inclusive socioeconomic growth in the region.
The participation of SESAM in these series of exhibits and info caravans was facilitated by Dr. Eslava, Dr. Loucel E. Cui and EartLab Researchers, Ms. Maria Regina V. Regalado, Ms. Bianca Marie Laureanna Pedrezuela, Mr. Kim Bryan Cabrera, and SESAM Research Associate, Ms. Rosemarie Laila D. Areglado. (RLDAreglado, MRVRegalado, JJRapisura, BMLPedrezuela, KBCabrera)