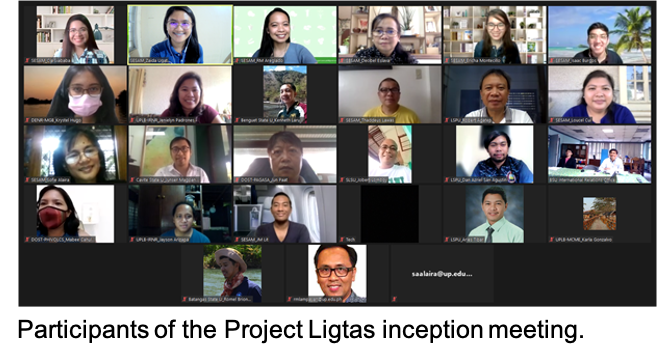 Project LIGTAS, a multi-institutional research project of the School of Environmental Science and Management (SESAM), University of the Philippines Los Baños (UPLB) held its first online inception meeting with its partners last April 8, 2021. Project "Landslide Investigations on Geohazards Preparedness for Timely Advisories in the Philippines" or LIGTAS is funded by the Department of Science and Technology – Philippine Council for Industry, Energy and Emerging Technology Research and Development (DOST-PCIEERD) under the Manila Economic and Cultural Office (MECO) – Taipei Economic and Cultural Office's (TECO) call for Volcanoes, Oceans, Typhoons, and Earthquake (VOTE).
Project LIGTAS aims to generate site-specific landslide rainfall intensity-duration (I-D) thresholds for the mountainous areas of Luzon. These I-D thresholds will serve as the basis in formulation of site-specific and semi-quantitative early warning systems that can be adopted by the local government units.
Twenty-eight researchers and staff from partner National Government Agencies (NGAs) and State University and Colleges (SUCs) attended the online inception meeting of Project Ligtas. This inception meeting aimed to introduce the members of the project including its partner NGAs and SUCs, and also discuss the roles and responsibilities of each partner. Collaboration activities were also discussed which include installation of Automatic Weather Station in Benguet Province, capacity building on the use of the instruments, basic GIS, generating thresholds, and Early warning systems and protocols.
The attendees of the said inception meeting were the representatives from partner NGAs such as the Department of Environment and Natural Resources (DENR) – Mines and Geosciences Bureau (MGB), the Department of Science and Technology (DOST) – Philippine Atmospheric, Geophysical and Astronomical Services Administration (PAGASA), and DOST – Philippine Institute of Volcanology and Seismology (PHIVOLCS). While the partner SUCs present were Batangas State University (BatStateU), Benguet State University (BSU), Cavite State University (CvSU), Laguna State Polytechnic University (LSPU), and Southern Luzon State University (SLSU).
The roles of these partners are essential in achieving the objectives of the project from data collection, validation, and wider dissemination of information and early warning protocol. With the support of these partners, Project LIGTAS can now continue its activities and reach more stakeholders. LIGTAS website (www.ligtas.uplb.edu.ph) will also continue to provide information and the project looks forward to collaborating with other agencies for its sustainability.  Project LIGTAS is headed by its project Leader, Dr. Decibel V. Faustino-Eslava, and being supported by project staff from SESAM, CFNR, and UP-NIGS. (Beth Zaida Ugat, Rosemarie Laila Areglado, Maria Regina Regalado and Ericha Montecillo)