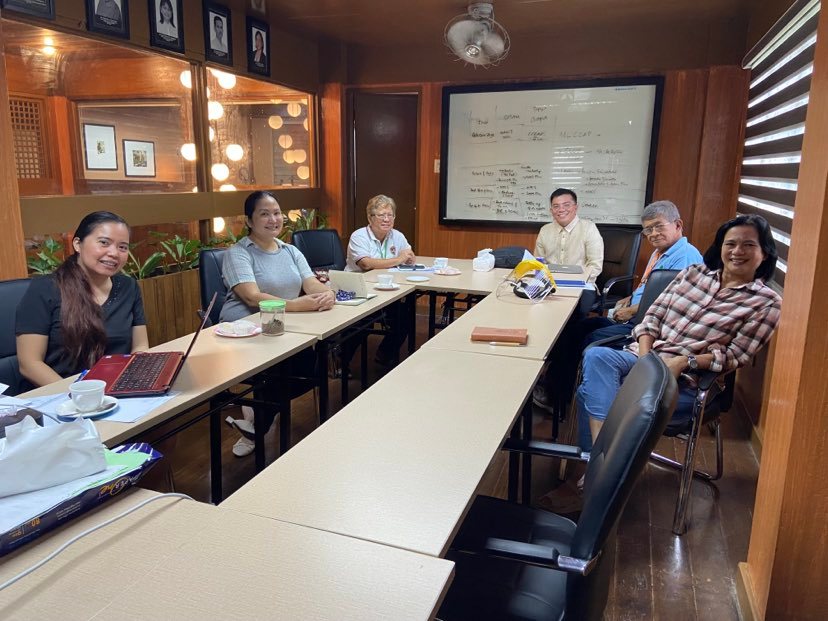 The Municipal Environment and Natural Resources Office of Los Baños, represented by Ms. Lizette Cardenas and Dr. Antonio J. Alcantara, Former SESAM Dean and Professor, visited the UPLB School of Environmental Science and Management (UPLB-SESAM) on 16 November 2021 to meet Dean Rico C. Ancog and the Research and Extension Division representatives and Professors, Dr. Patricia Ann J. Sanchez and Dr. Jessica D. Villanueva-Peyraube, and Continuing Education and Training Division Head, For. Sofia A. Alaira.
Technical assistance to development plans and training activities for the municipality are some of the possible undertakings between SESAM and LGU. In this meeting, they discussed the areas of collaboration and the specific roles of SESAM in crafting and/or updating the environmental plans and programs of the Municipality.
Included in these endeavors are identification of potential Water Quality Management Areas (WQMAs) for Makiling Watershed through membership in committee and action planning; assistance in technical writing of Enhanced Local Climate Change Action Plan (e-LCCAP) for 2021-2022; finalization of Solid Waste Management Plan (SWPM); assistance to Waste Analysis Characterization Study (WAQS); and finalization of Environmental Code (e-Code).
Highlighted also in the meeting is the drafting of ordinance to institutionalize MENRO, which is the core foundation in ensuring proper management and implementation of ecosystem and environmental plans and programs in Los Baños. 
These undertakings are targeted to be implemented in the 1st up to 3rd quarter of 2022. Banking on the SESAM Sails (Sustainability and Accelerated Innovation in Learning and Solutions) vision of Dean Rico Ancog and in accordance with future-proofing UPLB, the School is hopeful to extend help in the municipality of Los Baños towards environmental sustainability and nation-building through partnership and collaboration.  (Jessa O. Aquino)