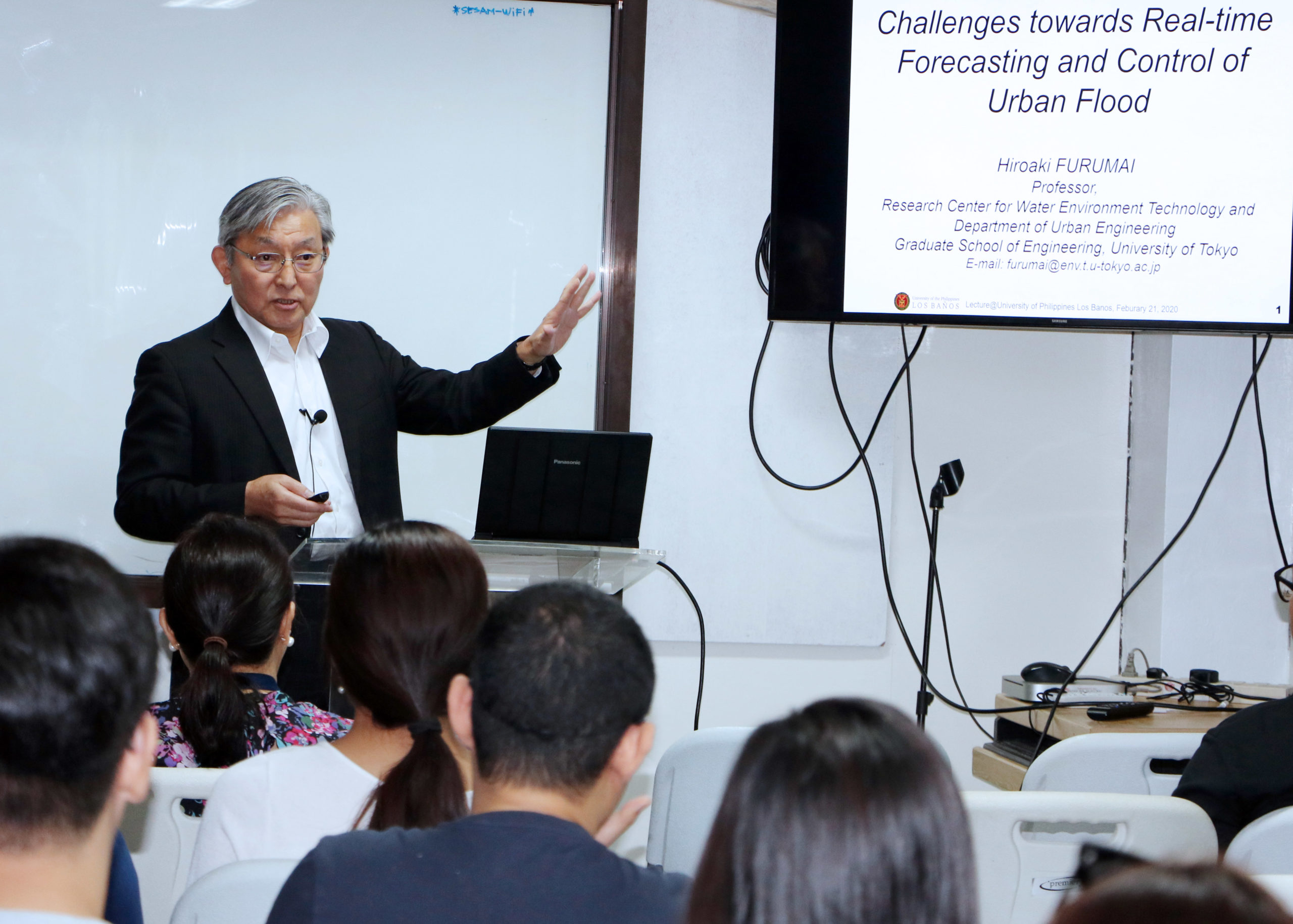 Establishment of infrastructures for flood control is not enough to stop inundation of urban areas, according to Dr. Hiroaki Furumai, Professor, Research Center for Water Environment Technology, Department of Urban Engineering, Graduate School of Engineering, University of Tokyo, Japan. Dr. Furumai stressed that meteorological data, hazard maps and other flood monitoring information are also needed to effectively implement flood control measures.
In his presentation entitled "Challenges Towards Real-Time Forecasting and Control of Urban Flood" last February 14, 2020 at the School of Environmental Science and Management-University of the Philippines Los Baños (SESAM-UPLB), Dr. Furumai illustrated the integrated management by various stakeholders. It included the establishment of river measures, such as multipurpose storm water reservoir, drainage pump station, underground river establishment, river improvement (banking/dredging); basin measures in different zones, such as in water retaining area, water retarding area and lowland areas; and damage reduction measures. In addition, house and city planning measures, risk information provision, evacuation measures and hazard maps must be disseminated. All stakeholders must also practice green conservation, Dr. Furumai added.
Dr. Furumai also discussed their project on real-time prediction and control of urban flood risk. The real-time sensing of water level of the drainage system in Tokyo are detected by wifi-enabled sensors installed in manholes. The data from sensors will be transmitted to a cloud network and will be used for data assimilation. Data assimilation can adjust for predictions and can create new predictions for possible future floods.
The integrated data from the sensors, along with other meteorological data will aid the disaster managers in emergency response. Citizens will also receive SMS about the flood levels, which will enable them to make informed decisions during flood events, according to Dr. Furumai.
River administrators must consider a combination of these measures to save more lives and prevent more damages. "There can be damages but it is important that nobody will die. In Tokyo, a 50 cm inundation is still acceptation as it only creates minimal damage", Dr. Furumai said.
He said there is an increasing trend of torrential rainfall events in Japan with more than 20 events in the last 10 years. "One of the worst Tokyo flood was experienced during Typhoon Hagibis in October 4, 2014", he said. Faculty, Staff and students of SESAM attended the lecture, which is co-presented by the UPLB Environmental Science Society.