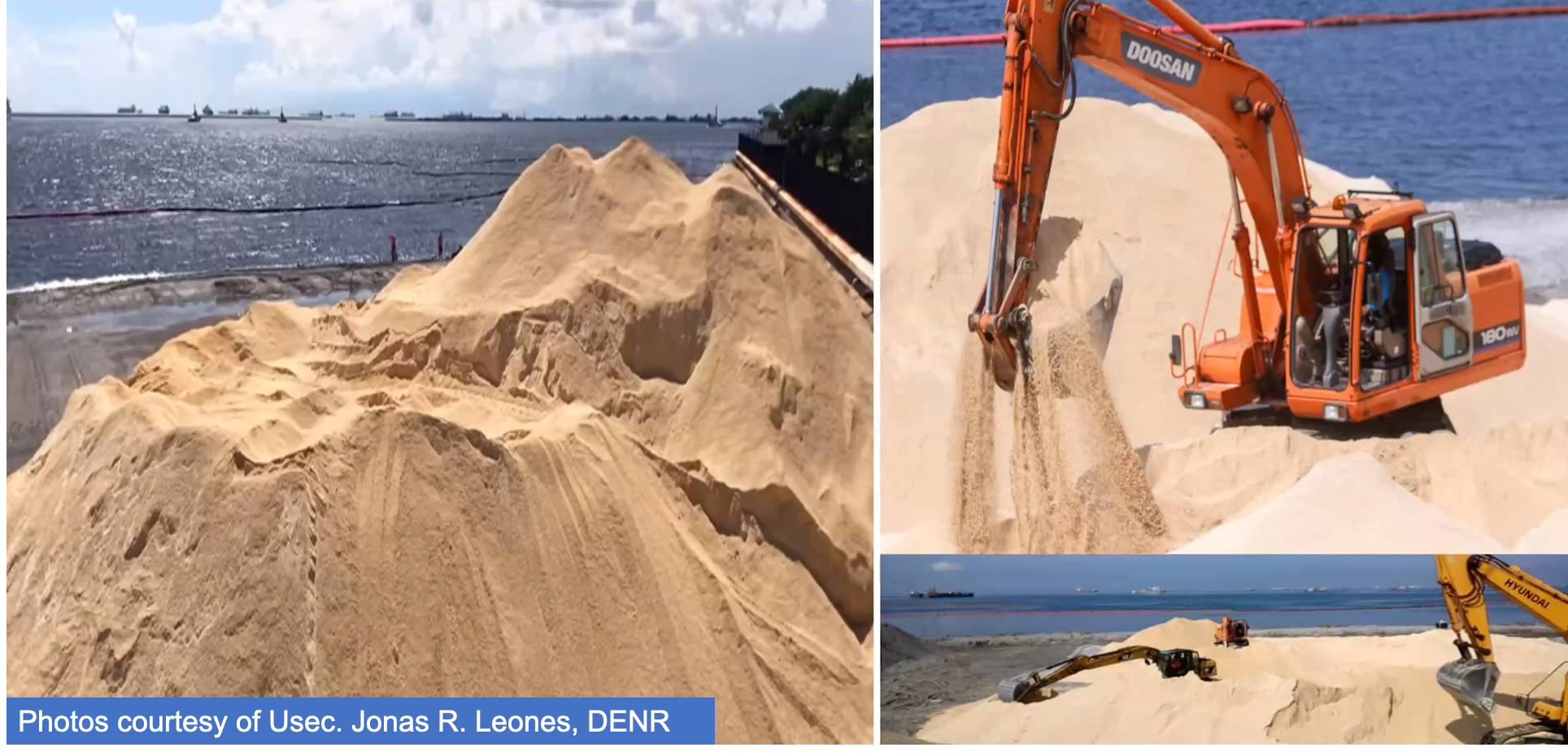 The Geological Society of the Philippines (GSP), in collaboration with the School of Environmental Science and Management-University of the Philippines Los Baños (SESAM-UPLB) and the National Research Council of the Philippines (NRCP), gathered experts and authorities in a webinar to discuss the brewing arguments regarding the current developments In Manila Bay, last September 18, 2020. The symposium provided the platform for discussing Manila Bay in the context of environmental management through a whole of system approach.
The white sand project in a section of the Manila Bay shoreline is a beach nourishment initiative, according to Atty. Jonas R. Leones, Undersecretary for Priority Programs, Department of Environment and Natural Resources (DENR). "This is to fast track our compliance to the Supreme Court Mandamus dated December 18, 2008, which directs 13 government agencies to clean up, rehabilitate and preserve Manila Bay, and restore and maintain its water to SB level", said Usec. Leones. He enumerated the geo-engineering interventions to make sure that the white sand will not be easily washed out. Usec. Leones also cited resorts such the Shangri-La beach front in Cebu, which also used dolomite, as a model for the Manila Bay beach nourishment and he stressed that this aesthetic initiative does not require environment impact studies. 
Aside from the beach nourishment, Usec. Leones also discussed the three phases of the Manila Bay Rehabilitation Program which include clean-up/water quality improvement (phase 1); full rehabilitation and resettlement (phase 2); and protection and sustainment (phase 3). He also mentioned that the solar-powered Sewage Treatment Plant (STP) which was unveiled last July 30, 2020 along Roxas Boulevard is now operational. The STP is capable of treating 500,000 liters of wastewater per day.
Prior to the updates on Manila Bay rehabilitation program, former UPLB Chancellor Dr. Rex Victor O. Cruz gave an overview of the framework for the development of the Manila Bay Sustainable Development Master Plan. Dr. Cruz mentioned the importance of institutional set-up options. He detailed these options such as strengthening the existing Manila Bay structures; expanding Laguna Lake Development Authority (LLDA) coverage and empower Manila Bay Task Force under LLDA; and creating a new agency or authority similar to the LLDA.
For his part, Dr. Karlo Queaño, Professor, Ateneo de Manila University, introduced the geological considerations in the coastal management of Manila Bay. Dr. Queaño pointed out that adaptation and mitigation strategies need to be reviewed carefully to strengthen flood resilience, protect or enhance the ecosystem; and improve future development planning to deter large community displacement and damage to infrastructures.
Dr. Jonathan R. Dungca, Professor, De La Salle University, presented several studies and previous incidence of earthquake-induced soil liquefactions in other countries such as in Japan. "A Magnitude 5 earthquake can already cause a liquefaction in Manila Bay, since saturated sand deposits are loose", Dr. Dungca pointed out.
In her presentation entitled "Addressing the 'Dolomite' Communication Fiasco, Dr. Ma. Stella C. Tirol, Dean, College of Development Communication, UPLB, cited five communication issues that hounded the project. These are inappropriate timing of the project at the height of the pandemic; missing the big picture which created information gaps, thus making more people speculate; the unharmonized mouthpieces– the DENR and the Department of Health (DOH) at first contradicted each other about the safety of dolomites; then the credibility reversal, due to the retracted statement of DOH; and finally, the lack of transparency, which fueled the doubts among the public.
Dr. Tirol also listed some good practices that any activities must initiate, such as preparing a communication plan; building good relationship with media; reporting positive results/stories/ build champions as advocates; social media training or communication capacity building; and listening to public opinions and complaints.
Department of Science and Technology Secretary Fortunato dela Peña also attended the webinar and he thanked SESAM-UPLB, GSP and NRCP for organizing this symposium, which was attended by more than 1000 participants from different sectors. This symposium was made possible by the efforts of the officers and members of the GSP and NRCP, led by Drs. Carla Dimalanta, Graciano Yumul, Edanjarlo Marquez and SESAM Dean Decibel F. Eslava.