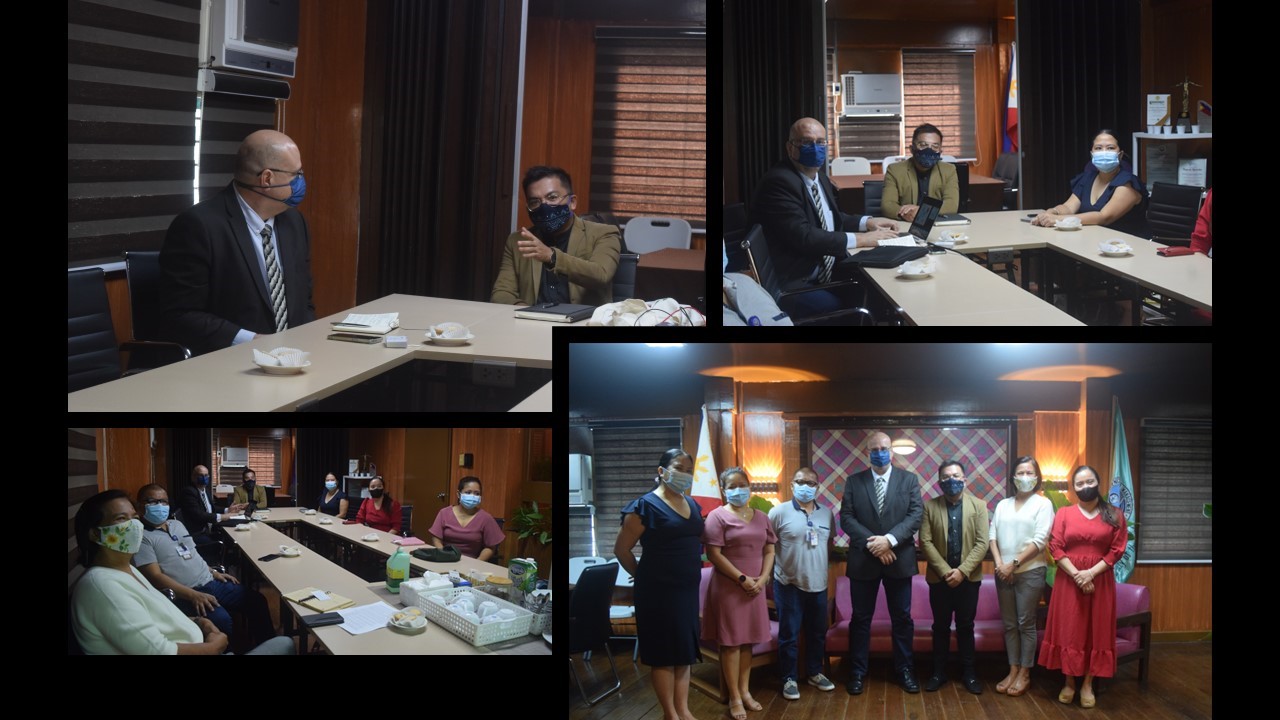 The UPLB School of Environmental Science and Management (UPLB-SESAM) headed by the Dean, Dr. Rico C. Ancog held an exploratory talk with Dr. Jean-Marc Roda, CIRAD Regional Director representing France National Research Institute for Agriculture, Food and the Environment (INRAE) and Agreenium for Southeast Asian Island Countries on 21 June 2022 at SESAM for Science and Research Cooperation.
The SESAM cohort also included faculty members Dr. Jessica Villanueva-Peyraube, Dr. Janice Sevilla-Nastor, and Dr. Patricia Ann J. Sanchez and SESAM researchers Dr. Thaddeus P. Lawas, For. Sofia A. Alaira, and Rosemarie Laila D. Areglado.
In setting the tone of the discussion, Dr. Ancog highlighted SESAM as being very active in various initiatives related to the science and practice of environmental science and management in the Philippines and the Southeast Asian region. He discussed different functions and services of the school in research, instructions, public service, and extension.
Dr. Roda also had a presentation about the CIRAD. CIRAD or the Centre de coopération internationale en recherche agronomique pour le développement is a public industrial and commercial enterprise (EPIC) under the joint authority of the Ministry of Higher Education and Research and the Ministry of Foreign and European Affairs. According to Dr. Roda, CIRAD works with different developing countries to generate new science-based knowledge and support agricultural development. He also added that CIRAD and SESAM have the same thematic interest in research. They aim to develop scientific approaches and methods with partner institutions in Southeast Asia which includes Brunei, Indonesia, Malaysia, Philippines, Singapore, and Timor Leste.
"CIRAD is giving the intellectual push to its partners and one day, SESAM can come into that", said Dr. Roda. His mission in this meeting is to see if SESAM and UPLB would like to be new partners on the new network and platform that they want to create.
In response, Dr. Sanchez stated that there is a different approach for each of the focus-thematic areas and with the different setting. She also added that SESAM can be a bridge to link CIRAD to some agencies of concern in the country.
Dr. Villanueva-Peyraube also added that on the research aspect, the School wanted to extend its extension work to southeast asia countries and supported that what works in the Philippines cannot be effective in other countries. This opportunity to be a part of a network in Southeast Asia will help the School in reaching and looking for international partners for a collaborative research endeavor.
In terms of the network of UPLB-SESAM in the national scale, Dr. Ancog reiterates that UPLB as a national university has the responsibility to help other universities in the Philippines for research and capacity building of their human resources.
At the end of the discussion, Dr. Roda expressed his gratitude towards SESAM for a warm welcome and a positive response to the proposed network and partnership and is looking forward to more fruitful discussions in the future.
Dr. Ancog also mentioned that SESAM already knows its position. "We want to promote SESAM in Southeast Asia", he added. And with this discussion, the Dean hoped that CIRAD would now have a better appreciation on what SESAM is, with its strength and characteristics as an interdisciplinary School of UPLB and of the country. (RDAreglado)