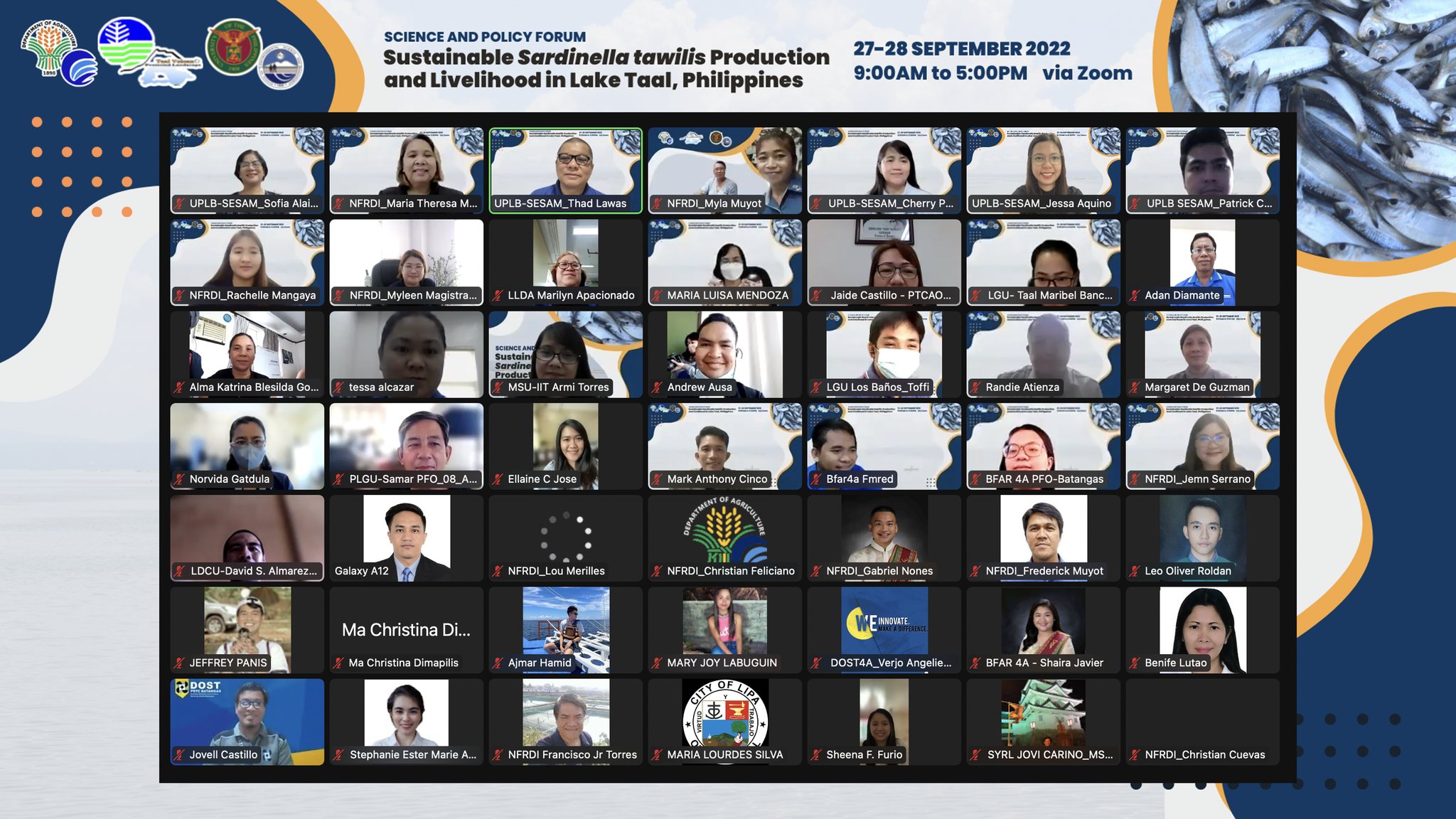 The University of the Philippines Los Baños-School of Environmental Science and Management (UPLB-SESAM) and the Department of Agriculture-National Fisheries Research and Development Institute (DA-NFRDI), in cooperation with the Department of Environment and Natural Resources-Protected Area Management Office(DENR-PAMB)-Taal Volcano Protected Landscape, conducted a Science and Policy Forum for Sustainable Sardinella tawilis Production and Livelihood in Taal Lake last September 27-28, 2022 via Zoom.
More than 30 participants from Zoom and Facebook live joined the two-day event representing academic institutions, national government agencies, research institutions, non-governmental organizations, fisherfolk and local government units.
This forum aims to solicit science-based information from experts; to provide updates on the ecological status and socio-economic condition of the lake and dependent communities; and to determine challenges and initiatives related to sustainability of Tawilis production.
The two-day forum was able to gather science-based information from experts in the fields of:
geophysical science; watershed; water quality; fisheries; ecotourism; socio-economics; resolutions, laws and policies; and research frontiers.
In opening program, Dean Rico C. Ancog of SESAM-UPLB said there is really a strong rationale why this forum is being conducted. "There has been good initial steps and lots of understanding on this respect, we all agree that actions are needed, I think those actions will be better implemented especially when we continue our conversation to really identify better steps moving forward", Dr. Ancog stressed.
"This science forum is proof of our continuous efforts and management and conservation of the endemic Tawilis", For. Noel M. Recillo, the Provincial Environment and Natural Resources Officer-Batangas said.
UPLB Chancellor Jose V. Camacho, Jr. mentioned that the university is delighted to work with DA-NFRDI and DENR to craft a policy for the conservation of Sardinella tawilis– the only fresh water sardine only found in Lake Taal. For her part, Dr. Lilian C. Garcia, Executive Director, DA-NFRDI said that this two-day forum will capture plenty of information about Taal Lake that may not only solve the problem of fisheries but also climate change, especially that anthropogenic activities has negatively affected the Tawilis industry.
The pool of experts invited and lectured were: Dr. Paul Karson B. Alanis (Department of Science and Technology-Philippine Institute of Volcanology and Seismology); Dr. Rex Victor O. Cruz (UPLB-College of Forestry and Natural Resources); Ms. Nenita S. Kawit (Bureau of Fisheries and Aquatic Resources Region 4A); Dr. Rey Donne S. Papa (University of Santo Tomas); Dr. Maria Theresa M. Mutia (NFRDI-Freshwater Fisheries Research and Development Center); Dr. Ma. Vivian DC. Camacho (UPLB Limnological Station); Ms. Jaida M. Castillo (Batangas Provincial Tourism and Cultural Affairs Office); Ms. Myla Muyot (NFRDI-FFRDC); Ms. Jemn Serrano (NFRDI-FFRDC); Ms. Jasmin V. Andaya (TVPL-PAMB); Dr. Rico C. Ancog (UPLB-SESAM); and Dr. Macrina T. Zafaralla (UPLB).
The participants were engaged in two workshop sessions. Workshop 1 Identified major issues and challenges in watershed related to Tawilis production and livelihood; Identified the causes, existing interventions and responsible agencies; and Identified gaps in the existing interventions and recommend solutions to address these gaps and the responsible agencies. Meanwhile, workshop 2 reviewed the draft 'Tawilis' conservation and management plan of 2019.As a way forward, all stakeholders agree that All policy recommendations from the 2-day workshop will be consolidated and come-up with forum proceedings and policy brief; and the revised 'Tawilis' Conservation Management Plan for 2023-2027 that will be presented to PAMB for approval, adoption and implementation.