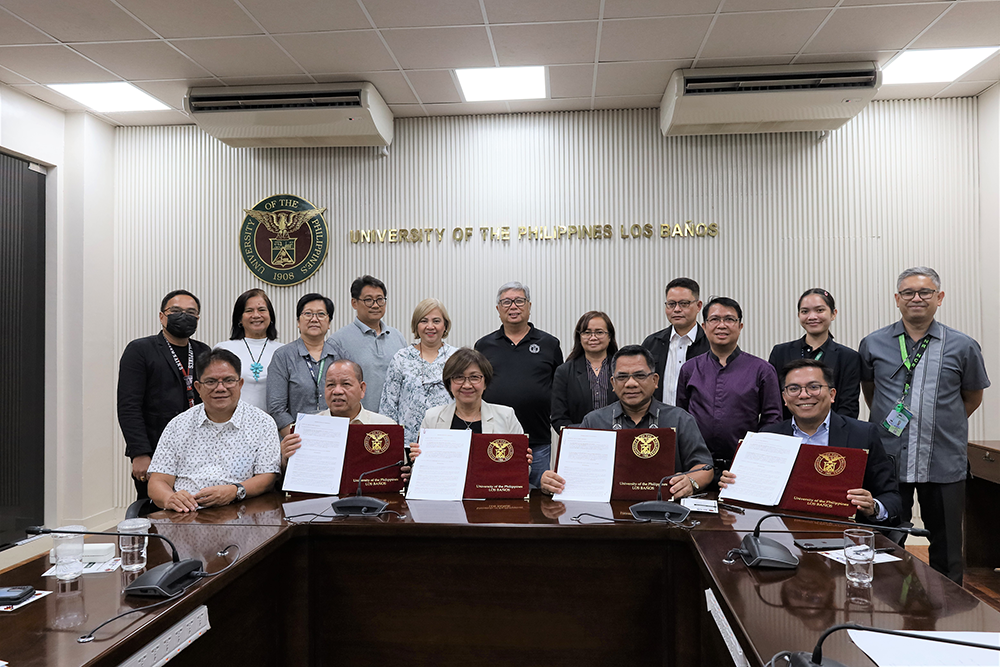 The University of the Philippines Los Banos (UPLB), through the School of Environmental Science and Management (SESAM), forged an academic agreement with the Department of Environment and Natural Resources – National Capital Region (DENR-NCR) on May 2.
Through a Memorandum of Agreement (MOA) signed between UPLB and DENR-NCR, both parties agreed to cooperate for qualified officials and employees of the DENR-NCR to take M.S. Environmental Science, Ph.D. Environmental Science, and Ph.D. Environmental Diplomacy and Negotiations degree programs starting 1st Sem., A.Y. 2023-2024.
UPLB Chancellor Jose V. Camacho, Jr. welcomed the DENR-NCR Delegation led by Regional Executive Director Jacqueline A. Caancan, CESO III.
"With our vision of future-proofing the university, SESAM delivers consistently and that translates to a future-proof environment, a future-ready sustainable initiatives," said Chancellor Camacho.
"I hope that with this collaboration, we can have a more productive and fruitful partnership with the DENR consistent with our common vision of sustaining our efforts towards environmental management and sustainability through academic programs and research," Chancellor Camacho added.
SESAM Dean Rico C. Ancog provided the overview of the partnership. Under the MOA, UPLB and DENR-NCR agreed to cooperate for qualified officials and employees of the DENR-NCR to pursue graduate programs of UPLB-SESAM and have satisfied all the necessary requirements of the UPLB Graduate School.
Dean Ancog mentioned that it is important that the academe has an active engagement with government agencies, particularly the DENR. "This partnership is indeed a celebration, and we look forward to jointly increasing or enhancing the human capital so we will have more environmental scientists in the country," said Dean Ancog.
Discussed also in this event is the possible collaboration on the conduct of the knowledge and capacity building, initially mentioning the SESAM Short Course Offerings such as the Ecosystem Valuation, Environmental Impact Assessment, and Climate and Disaster Risk Assessment and Climate Change Vulnerability Assessment.
The MOA signing took place on May 2 at the Executive Conference Room, Office of the Chancellor, UPLB, with Chancellor Camacho, Jr representing UPLB and Regional Executive Director Caancan for DENR-NCR.
"We value education, and we want to bring education closer to our employees," said Regional Executive Director Caancan.
Joining them for the MOA signing were SESAM Dean Ancog and Assistant Regional Director Manuel T. Escasura, who served as witnesses to the Agreement.
Present during the MOA signing are the other UPLB Officials, Vice Chancellor for Administration Rolando T. Bello, Dean Agham C. Cuevas of the College of Economics and Management, and Asst. to the Chancellor and the Director of Alumni Relations, Dr. Eileen Lorena M. Mamino; and SESAM Faculty and REPS, Dr. Eduardo C. Calzeta, Dr. Decibel V. Faustino-Eslava (Former Dean), For. Sofia A. Alaira, Dr. Yusuf A. Sucol, and Ms. Rosemarie Laila D. Areglado.
Other DENR-NCR Key Officials joining the event were Engr. Ignacio Almira, Jr., Asst. Regional Director for Technical Services; Jan Bautista, Admin Division Chief; and Dr. Heracleo Lagrada, Jr., Human and Resource Division Section Chief. (Rosemarie Laila D. Areglado)