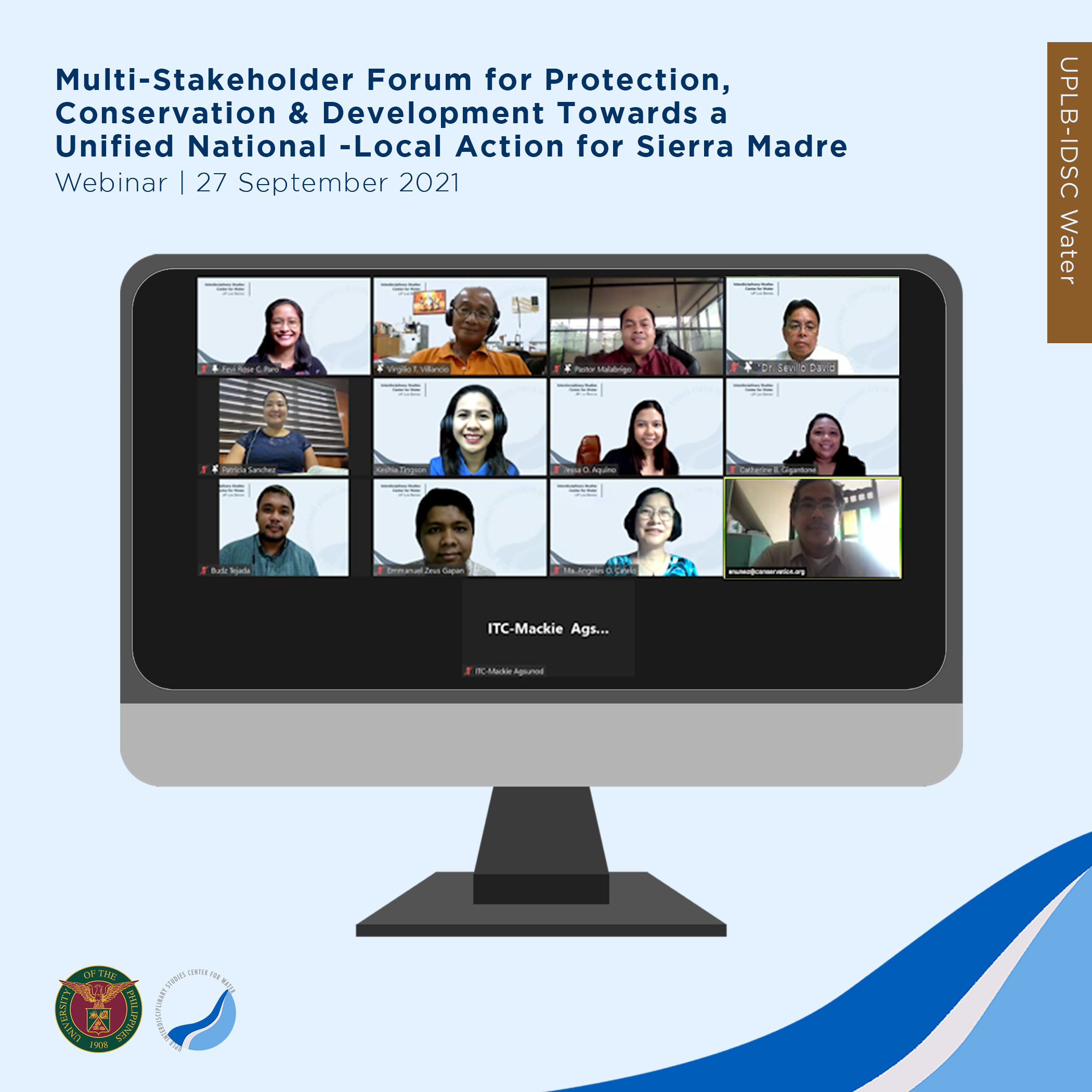 The UPLB Interdisciplinary Studies Center for Water organized a Water Forum to discuss the pressing issues on attaining water security in the country. Its first forum revisited and tackled the watershed management and governance in Sierra Madre. One of the lessons learned during the event is to address the issues in Sierra Madre "in a piecemeal manner so that it can be easily managed while ensuring a multi-stakeholder process."
It was highlighted that addressing issues and challenges of watershed degradation in Sierra Madre entails complexities and diversity in terms of plans, programs and stakeholder participation and should be addressed through stakeholder mobilization to include people in all the processes of watershed management from planning up to monitoring and evaluation.
In celebration of the Sierra Madre Day and as part of its efforts on managing the watersheds, a second webinar entitled "Multi-Stakeholder Forum for Protection, Conservation and Development towards a Unified National-Local Action for Sierra Madre Mountain Range" was organized on September 27, 2021, which was participated by over 100 participants from the Zoom Webinar and Facebook Live.
This event was graced by our speakers: Dr. Virgilio T. Villancio, Chair of IdSC Water Capacity-Building and Associate Professor of UPLB College of Agriculture and Food Science; Prof. Pastor. Malabrigo, Jr. Manager, UPLB Land Grant and Associate Professor of UPLB College of Forestry and Natural Resources; Mr. Enrique P. Nuñez, Executive Director, Conservation International Phils.; and Fr. Pedro Montallana of Save Sierra Madre Network Alliance, Inc. Their topics focused on the current conservation efforts, programs, strategies, initiatives and best practices; challenges and opportunities; and nature-based solutions for a sustainable Sierra Madre Mountain Range. (JOAquino)