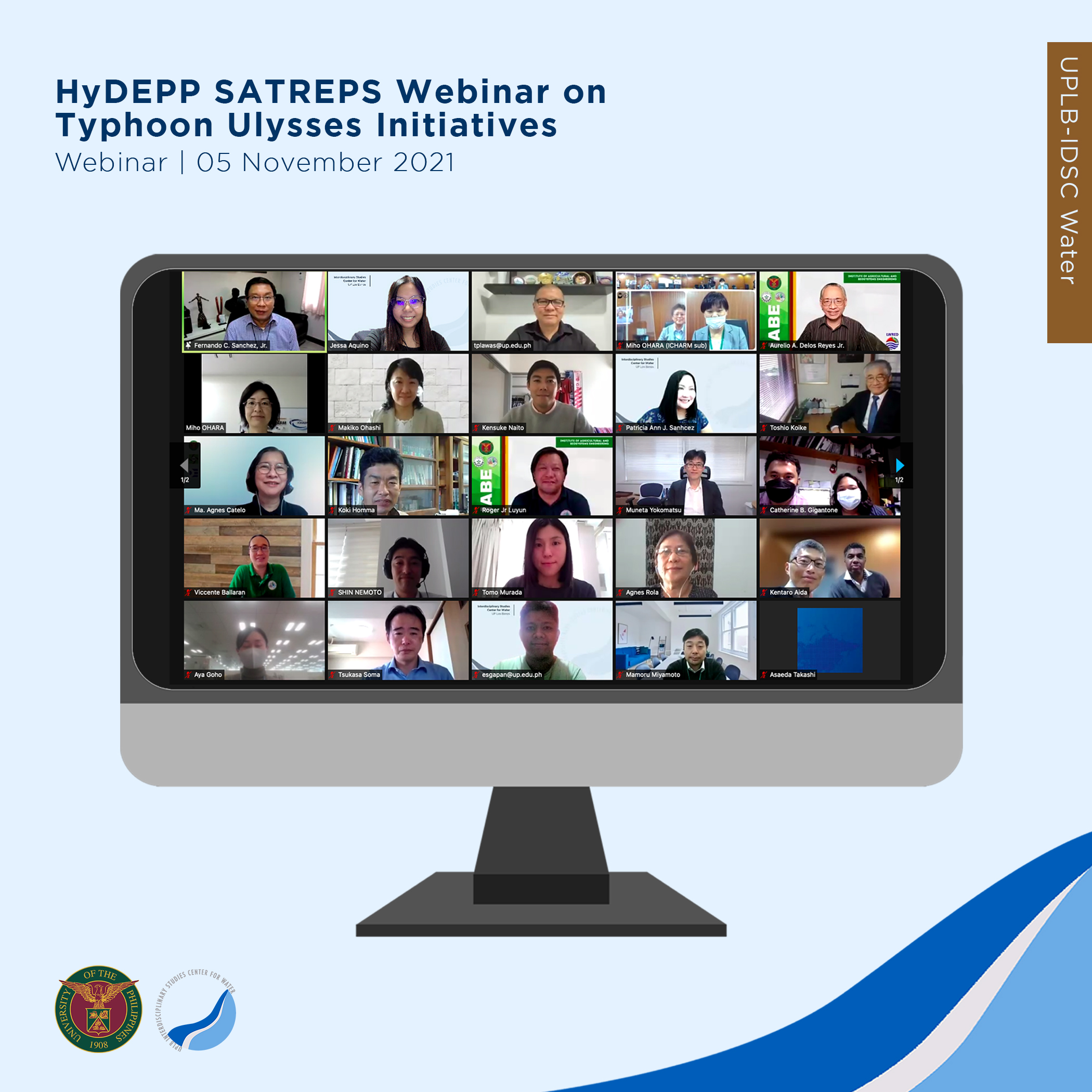 The University of the Philippines Los Baños Interdisciplinary Studies Center for Water (UPLB IdSC Water) and the International Centre for Water Hazard and Risk Management (ICHARM), in partnership with UPLB School of Environmental Science and Management -Continuing Education and Training Division (SESAM-CETD) organized a webinar event last 5 November 2021 on Typhoon Ulysses Initiatives as part of the project activities of "Development of a Hybrid Water-Related Disaster Risk Assessment Technology for Sustainable Local Economic Development Policy under Climate Change in the Republic of the Philippines (HyDEPP)."This is a five-year joint research project between Japan and the Philippines under the Science and Technology Research Partnership for Sustainable Development (SATREPS), funded by the Japan International Cooperation Agency (JICA) and the Japan Science and Technology Agency (JST).
The webinar provided an avenue to share the research outputs related to Typhoon Ulysses (2020) impact assessments and discuss the future directions of the collaborative research under the project. One hundred fifty participants attended via Zoom webinar and Facebook Live from the academe, National Government Agencies, Local Government Units, and private organizations, among others.
Dr. Fernando C. Sanchez, HyDEPP Program Director and former UPLB Chancellor, discussed the overview of the project. Meanwhile, the impacts of Typhoon Ulysses on the selected municipalities of Laguna was highlighted in the presentation of Dr. Patricia Ann J. Sanchez, SESAM Professor and HyDEPP Program Manager.
Dr. Miho Ohara, Program Director, emphasized the counterpart research activities conducted which includes in-house training on Unmanned Aerial Vehicle (UAV), e-Learning on flood on disaster risk reduction, flood hazard mapping and risk assessment, and hydro-agriculture-economic models which was participated by about 49 trainees from the Philippines and Japan. Lastly, Dr. Kentaro Aida, Study Leader, discussed assessment of flood damages due to Typhoon Ulysses using satellite images.
The lectures were followed by a panel discussion comprised of Philippines project study leaders: Dr. Roger A. Luyun, Jr. Engr. Vicente Ballaran, Dr. Aurelio Delos Reyes, Jr., Dr. Ma. Angeles Catelo, and Dr. Agnes C. Rola; Japan study leaders: Dr. Mohamed Rasmy Abdul Wahid and Dr.Moneta Yokomatsu; and Program director Dr. Toshio Koike. They highlighted to make use of these efforts through research and policy recommendations.
Through this event, the research team are hopeful that the outputs can be utilized in planning and decision-making to address water-related disasters such as the impacts ofTyphoon Ulysses in tropical countries like the Philippines. (JOAquino and CBGigantone)