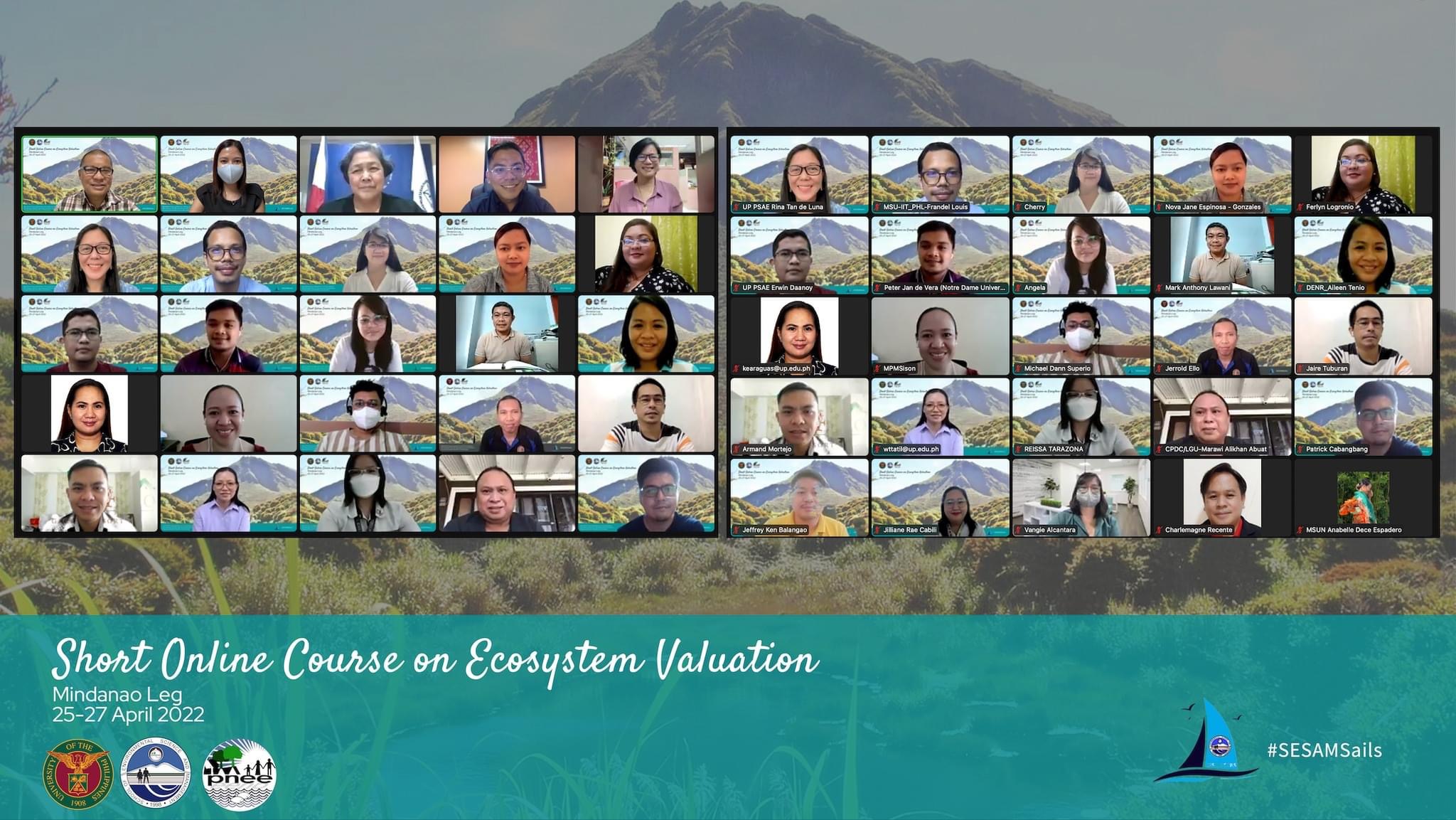 The School of Environmental Science and Management (SESAM), The University of the Philippines Professional School for Agriculture and the Environment (UP PSAE) and thePhilippine Network of Educators on Environment (PNEE) co-organized the Ecosystems Valuation Training-Mindanao leg last April 25 to 27, 2022, via online conferencing.
The Continuing Education and Training Division (CETD) of SESAM spearheaded the training which was exclusive for 22academe members, local government personnel, national government agency staff and private professionals practicing in Mindanao.
During the opening program, UPLB Chancellor, Dr. Jose V. Camacho, Jr., SESAM Dean, Dr. Rico C. Ancog and PSAE Off-Campus Director, Dr. Maria Catalina Tan-de Luna delivered inspirational messages to the participants and reiterated the university's commitment to Mindanao to help in protecting its rich natural resources by enhancing the capacity of professionals in this training. They emphasized the importance of this training and collaboration, including the practical and significant applications and opportunities in valuing our ecosystems.
The first speaker, Dr. Mercedita A. Sombilla, Undersecretary of the Regional Development Group, National Economic and Development Authority (NEDA), gave a comprehensive introduction to basic concepts on the economics of natural resources and she highlighted the importance of understanding the complex relationships and dynamics of ecosystems.
In the afternoon session of day one, Dr. Marites Tiongco of the College of Economics, De La Salle University discussed the overview on the cost-benefit analysis– its importance and uses to people, decision-making, and policy making. She also discussed the categories of environmental benefits and some valuation methods. UPLB Institute of Statistics Assistant Professor, Dr. Lara Paul Ebal, meanwhile lectured on regression analysis with STATA, which is a tool used for statistical analysis, data management, manipulation, and visualization.
Dr. Ebal continued her lecture on regression analysis using STATA on day two and she also conducted a hands-on exercise about review of correlation analysis, simple linear regressionand tests of assumptions for regression.
Dr. Canesio D. Predo of the College of College of Forestry and Natural Resources (CFNR) provided a comprehensive discussion on Methodologies for Economic Assessment specifically on the Stated Preference Approach focusing on Contingent Valuation Method or CVM.
In the afternoon session of day two, Dr. Jessica D. Villanueva-Peyraube of the SESAM discussed the Change of Productivity Approach which is one of the Methodologies for Economic Assessment. Dr. Villanueva-Peyraube also presented a case study and introduced the use of the Data Envelop Analysis Program (DEAP) software to the participants.
On day three, Dr. Ancog presented the methodologies of economic assessment, which covers revealed preference approach and travel cost method. He also conducted a workshop on crafting economic valuation studies for environmental management.
In his closing remarks, PNEE President, Dr. Ramon M. Doctowas very proud that the PNEE has contributed in the mandate of SESAM-UPLB to deliver trainings and help develop the participants in their respective professions. (RPMCabangbang, JOAquino and TPLawas)