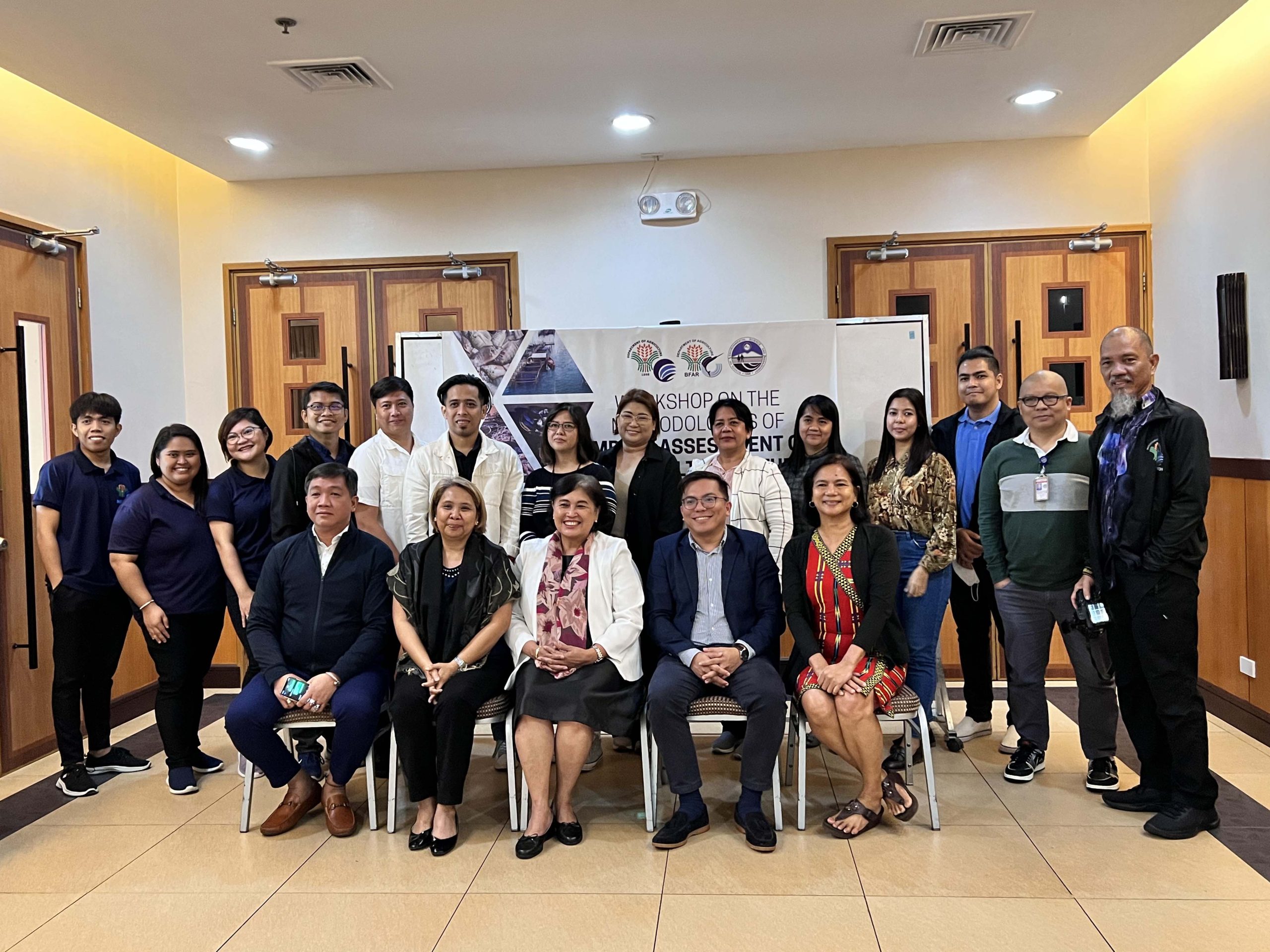 The School of Environmental Science and Management-University of the Philippines Los Baños (SESAM-UPLB) collaborates with the Department of Agriculture-National Fisheries Research and Development Institute (DA-NFRDI) to study the impact assessment of mariculture in the Philippines. To formalize the partnership, a workshop was conducted last April 17 to 18, 2023 at Hotel Kimberly, Tagaytay City.
This two-day workshop aimed to review and discuss the project methodologies of Impact Assessment of Mariculture in the Philippines'; and to capacitate the participants regarding the conduct of Environmental Impact Assessment (EIA).
This impact assessment of mariculture in the Philippines is an NFRDI-funded project that started in 2023 and will be completed in 2027. This project aims to assess the environmental, economic, and social impacts of mariculture activities in the country and consequently inform decision-making and regulatory bodies for the sustainable development of the sector. The project will be implemented by the NFRDI technical staff in collaboration with the Bureau of Fisheries and Aquatic Resources (BFAR), local government units (LGUs), and experts from the UPLB -SESAM.
Dr. Lilian Garcia, NFRDI executive director, emphasized the importance of mariculture in achieving food security and poverty alleviation. Meanwhile, Dr. Maria Theresa Mutia, Scientist I and Freshwater Fisheries Research and Development Center (FFRDC) chief, expressed her gratitude to the resource persons and participants from NFRDI, DA-Bureau of Fisheries and Aquatic Resources (BFAR) and UPLB-SESAM.
Dr. Rico C. Ancog, SESAM Dean, discussed the process of EIA. He reiterated that depending on the nature and scope of proposed projects, whether government and private, are required to undergo EIA prior to implementation. He also presented the status of coastal and marine ecosystems in the country, as well as the data collection method that the project in the impact assessment of mariculture. "Impact analysts should put themselves in the shoes of those involved in the designing of the mariculture program", said Dr. Ancog, when he emphasized the analysis of the possible effects of climate change in the ecological status of mariculture parks.
During day two of the workshop, resource persons from UPLB-SESAM and representatives from the different DA agencies provided insights and analyzed project methodologies for assessing the social and economic impacts. The group also enumerated the project methodologies for ecological data collection and analysis. In addition, the group drafted and reviewed the project work plan, timetable of activities, roles of project members and collaborators, project deliverables, and identified ways forward.
Based on the deliberation, the suggested project sites include established mariculture parks in Sual, Pangasinan; Basey, Samar; and Panabo, Davao del Sur.