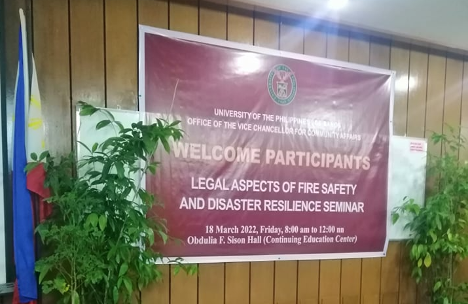 In recognition of Fire Prevention Month, the Office of the Vice Chancellor for Community Affairs conducted a Seminar on Legal Aspect of Fire Safety and Disaster Resilience last March 18, 2022. This seminar is also as part of the future proofing vision of Dr. Jose V. Camacho, Jr., Chancellor, University of the Philippines Los Baños (UPLB).
Mr. Henry E. Ramos, Building Administrator of School of Environmental Science and Management (SESAM), represented the school at the said event.
In his welcome remarks, Atty. Aladin P. Dominguita, OIC of the Safety and Security Office (SSO-UPLB), said there is a need toequip us with the knowledge in regards to disaster response. "There is a Legal aspect 'to act or not to related to the responsibility during times of crisis or emergency", Atty. Dominguita added.
Atty. Kristoffer James E. Purisima, Former Assistant secretary of the Office of Civil Defense said that the Philippines encounters 20 tropical cyclones yearly and with Climate Change, these hazards leads us to disasters that cost us billions. "Risk becomes a Disaster if our resources could not cope up or unable to respond to a Hazard", Atty. Purisima stressed. He further discussed the disaster risk formula which determines how we react to a certain crisis or hazard that could lead to disaster. He said that we all know hazards will always be there, and for us to respond less in a crisis/emergency, we should build back better.
Jonathan D. Maliwat, Special Police Assistant Chief of the SSO-UPLB, discussed the creation of the Crisis Management Committee (PDLC 21-07 Administrative Order), which is anchored on the E.O. No. 82 s. 2012 sec 2. He also mentioned that the institutionalization of the SSO was approved on October 29, 2020 during the 1355th meeting of the UP Board of Regents. Also during the seminar, the Los Baños Municipal Fire Marshall, F/SINSP Fernando C. Castillo, discussed about R.A. 9514 or the Fire Code of the Philippines.
About 60 participants from different units of the university, as well as the University Police Force and the Community Support Brigade members attended the seminar. (Henry E. Ramos)