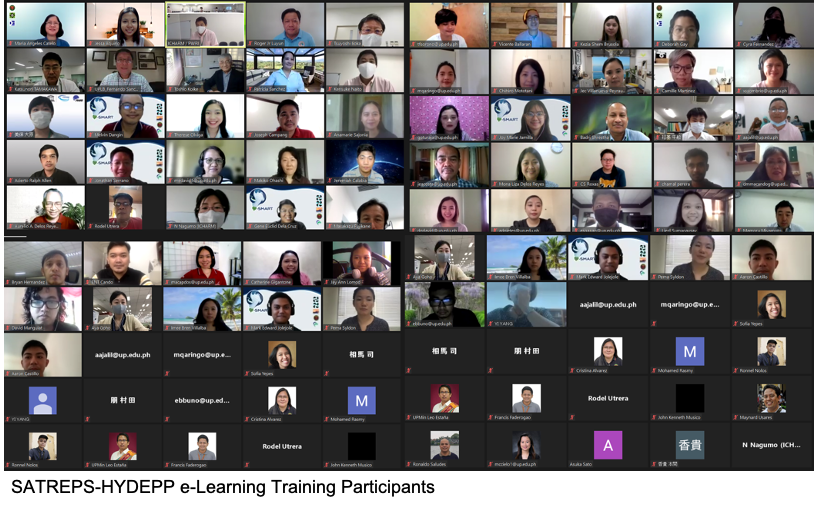 The International Centre for Water Hazard and Risk Management (ICHARM) of the Public Works Research Institute(PWRI) in Japan and the University of the Philippines Los Baños (UPLB) through the UPLB Interdisciplinary Studies Center for Water (UPLB IdSC Water) kick-started the month-long e-Learning session for the project "Development of a Hybrid Water-Related Disaster Risk Assessment Technology for Sustainable Local Economic Development Policy under Climate Change in the Republic of the Philippines (HyDEPP)" under the Science and Technology Research Partnership for Sustainable Development (SATREPS).
This e-learning session aims to enhance international cooperation in science and technology between Japan and counterpart countries while creating innovations through new knowledge and technology that leads to the resolution of global issues and the advance of science and technology. It also aims to promote the capacity development of future human resources in Japan and counterpart countries.
ICHARM introduced the Online Synthesis System (OSS) which aims to develop capabilities of the members, researchers and students related to the HyDEPP-SATREPS project by providing learning opportunities regarding water-related disaster risk assessment technology using blended learning tools for hands-on training tutorials. The training will run from July 14 to August 14 2021.
The e-learning training has 3 courses: basic lectures on disaster risk reduction; flood hazard mapping and risk assessment; and 3hydro-agriculture-economic models. This event will be participated by about 80 representatives from the academe, national government agencies and other organizations. (JOAquino and CBGigantone)