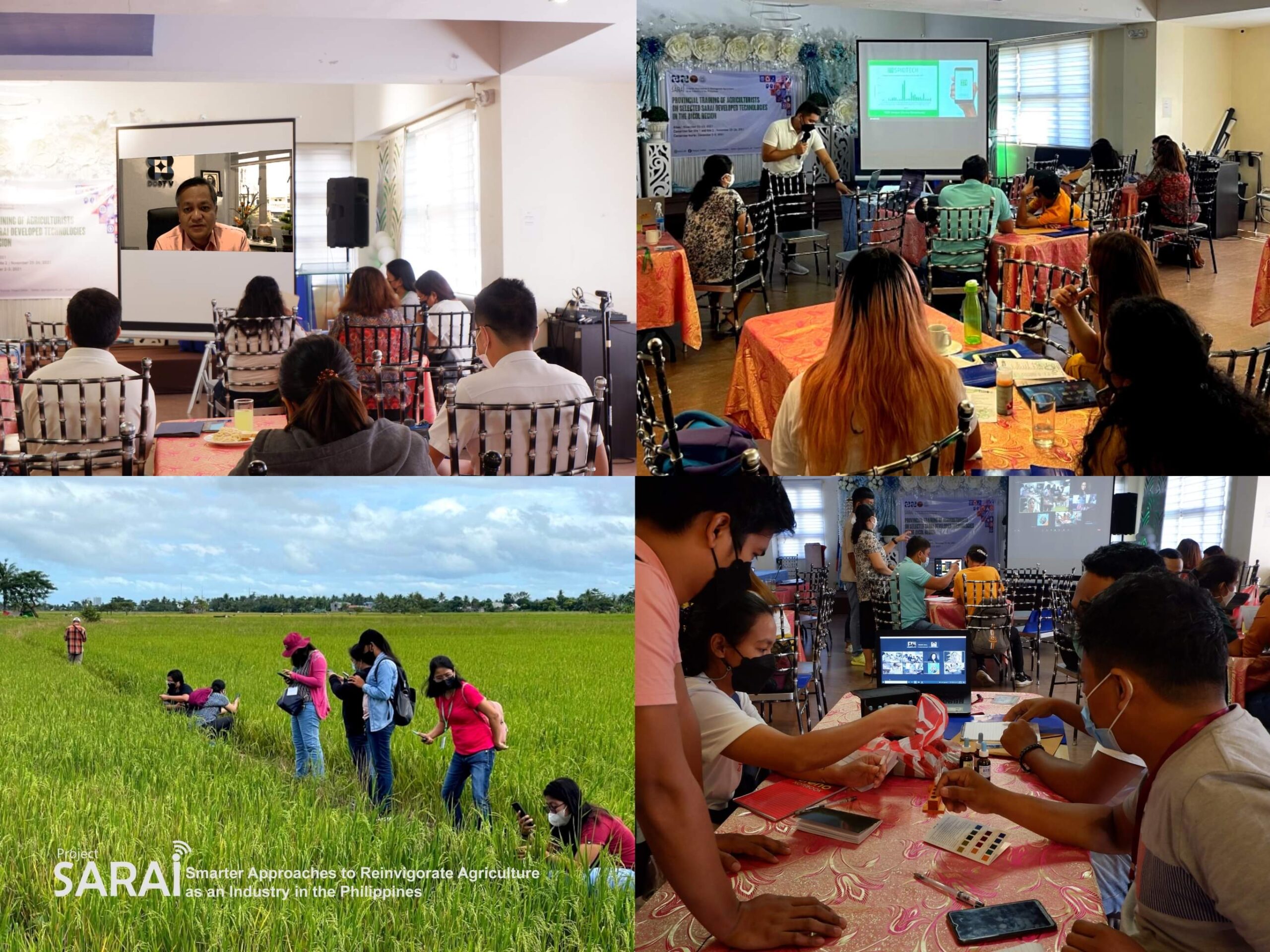 Smarter Approaches to Reinvigorate Agriculture as an Industry in the Philippines (Project SARAi), in partnership with the Department of Science and Technology Regional Office V and the Provincial Science and Technology Center (PSTC) in the Provinces of Albay, Camarines Norte, and Camarines Norte, conducted a series of two-day, face-to-face training entitled "Provincial Training of Agriculturists on Selected SARAi-Developed Technologies in the Bicol Region". The series of trainings were conducted in the provinces of Albay (November 22-23, 2021), Camarines Sur (November 24-25, 2021), and Camarines Norte (December 2-3, 2021).
The project teams of SARAi from University of the Philippines Los Baños (UPLB) and Bicol University (BU) joined forces to facilitate this information caravan on rice pests and diseases, proper nutrient management, use of the Smarter Pest Identification Technology (SPIDTECH) mobile application for Android, as well as soil testing & soil sampling techniques.
The Province of Albay was the first stop for this series of trainings were agriculturists and agricultural technicians from different municipalities of Albay attended the training held on November 22 at Bicol Food Delights, Barriada, Legazpi City. PSTC Albay Director, Engr. Jacinto Alexis B. Elegado, who is also the head of this activity, welcomed the participants from Albay. Ms. Rosemarie Laila D. Areglado, UPLB-SESAM researcher and SARAi Project Staff introduced Project SARAi and gave an overview of the two-day event. Mr. Carl Vincent Gapasin, a former researcher for the Integrated Pest and Diseases Advisory System component of SARAi, served as one of the physically present experts for the lecture on rice diseases and SPIDTECH. On the other hand, virtually present experts in the training via Zoom were Ms. Kim Nyka Perdiguerra, researcher at the UPLB College of Agriculture and Food Science (CAFS), gave lectures on rice nutrient management; Ms. Joana Rose Vergara, Ms. Joy Eloiza Rosales, and Ms. Michelle Ann Bunquin (also from UPLB-CAFS) presented soil management techniques and supervised the hands-on training on the use of soil test kits. As an additional information, Ms. Karen Conda from the SARAi-BU gave a lecture on the use of automatic weather stations (AWS) and its applications in smart agriculture.
On the following day, November 23, the participants headed to a rice field in Rawis, Legazpi to identify specific pests or diseases present in the field using SPIDTECH. Afterwards, the trainees headed to Brgy. Estancia in Malinao, Albay to conduct soil sampling in an agricultural field site.
Using the same blended learning set-up in Albay, the training series carried over on November 25 with the participation of agriculturists from various municipalities of Camarines Sur. The training was held at Naga Pilgrims Hotel, Magsaysay, Naga City for the lectures. Also present in the training was the team from PSTC Camarines Sur headed by Director Patrocinio N. FelizmeniOn November 26, the participants also conducted a field visit to a rice farm area in Minalabac, Camarines Sur to test the capabilities of the SPIDTECH mobile app and conduct soil sampling.
The last leg of the provincial training, scheduled on December 2 and 3, is catered for agriculturists in Camarines Norte. This training is also patterned from the completed sessions in Albay and Camarines Sur. For this session, Ms. Marilou Belgado, a representative from PSTC Camarines Norte welcomed the participants.DOST Region V Regional Director, Mr. Rommel R. Serrano graced these series of activities and welcomed the guests and participants. RD Serrano emphasized his hope that the technologies presented will be utilized by the participants to help our agricultural sector. Also present and facilitated these events are representatives from PSTC Albay, Camarines Sur, and Camarines Norte. (Klarenz A. Hourani, Jose Mari C. Lit, Maria Regina V. Regalado, and Rosemarie Laila D. Areglado)