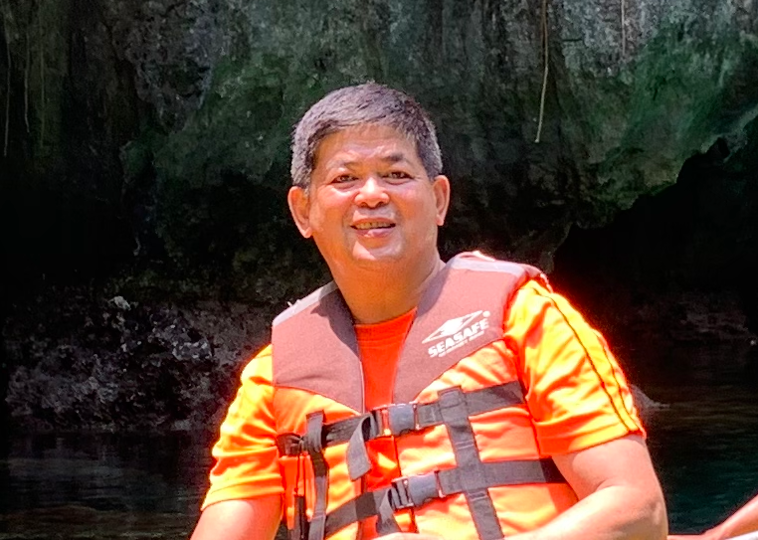 After 42 years of dedicated service at the University of the Philippines Los Banos School of Environmental Science and Management (UPLB-SESAM), Mr. Simplicio " Pol" Q. Veluz, a University Researcher, officially celebrated retirement last December 10, 2021. 
A celebration for Kuya Pol was held via online and a small gathering at the venue. His wife and his daughter were physically present in the event, while his son and his grandchildren attended via online. Few of his close friends and colleagues at UPLB SESAM also attended the celebration.
A dedicated worker. A man with a kind heart. A persevering man who always gets things done. These are just a few descriptions about Pol from his family, colleagues and friends. Many guests thanked him for devoting many years to work.
Kuya Pol started his career and service at the University in 1977 as a laborer, plant propagator, and research aide. He worked every 7AM to 4PM at the Department of Horticulture at the Continuing Education Center. He was a student at night. Kuya Pol attended his class from 5:30 PM until 8:30PM. This is his routine for four years, from 1980 to 1984 to finish his degree at Laguna College of Business and Arts.
At the time of his retirement, Kuya Pol was a University Researcher and concurrently SESAM's building administrator. He is an outstanding photographer, as many of his photos have been published in different books, journal articles, magazines, newsletters and other documents. For many years, he has been the go-to-guy of the university in terms of photo and video documentation on different activities and occasions.
Pol worked closely together with everyone in SESAM since 1984. He is the " Tito", "Kuya", and "Tatay" to every SESAM faculty, staff, and even to the graduate students. And after his 42 years of service to the university, he is now a full time husband, father, and a grandfather to his grandchildren.
Aside from the messages from his close friends, the moving portion of the celebration was a video presentation filled with images that tells his life story for more than five decades. The video also contains surprise video greetings from all the people that love him and cares for him. A special guest – one of the pillars of UPLB SESAM, also joined the celebration via video conferencing. This special guest is Dr. Percy Sajise, former Dean of SESAM, who gave a warm greetings and message to Pol.
Kuya Pol tears up listening to these messages. After reflecting on the many accomplishments and experiences as a researcher in the University, Pol feels it has "been a pleasure to work with many wonderful people". Little did he know, Kuya Pol inspired his colleagues at UPLB SESAM to be dedicated to work and to live with kindness and with respect to others. The School thanked him for his service, his infectious enthusiasm, and his boundless love for SESAM.
The last part of the program is the awarding of an oblation plaque in recognition of his exceptional contributions to the School and to the University. (Thaddeus Lawas and RM Areglado)