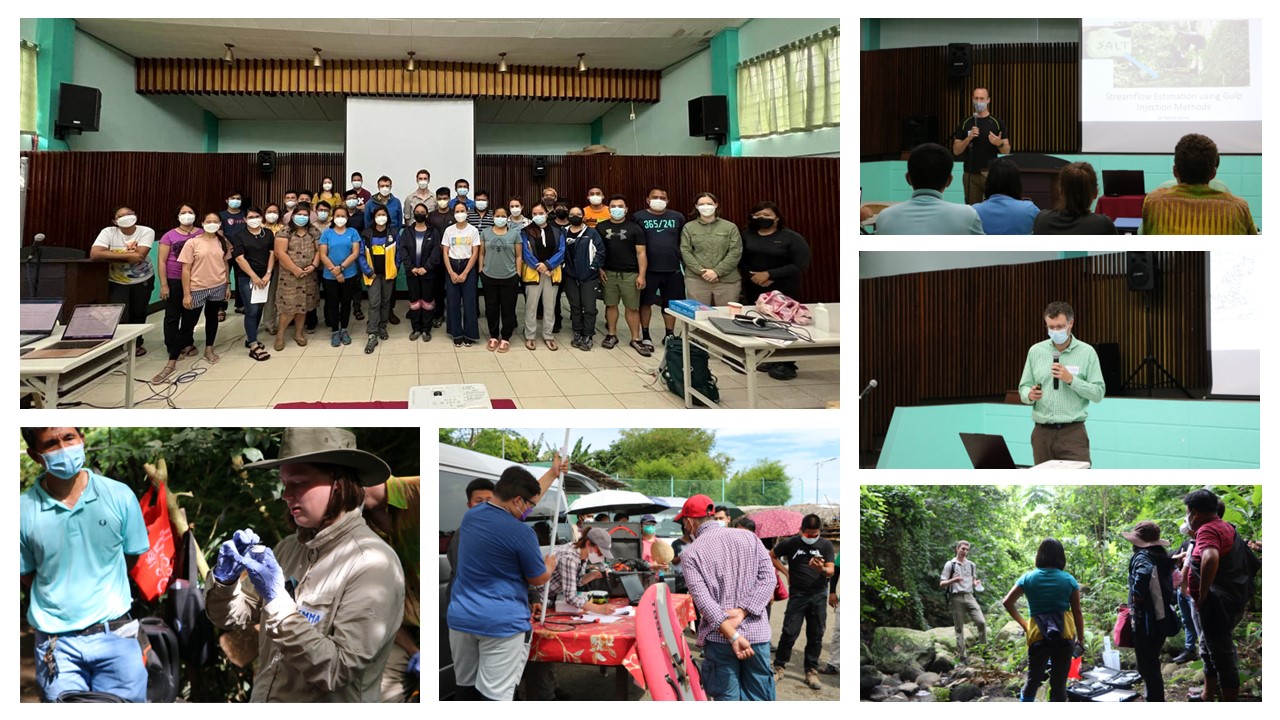 Project PAMANA or the "Philippine Mining at the National to Catchment Scale: From Legacy Impacts to Sustainable Futures" conducted a four-day Workshop and Training on Water Quality Monitoring and Ecological Baselining on June 21-24, 2022, at ICOPED Auditorium, College of Economics and Management (CEM), University of the Philippines Los Banos (UPLB). The training was conducted in cooperation with the PAMANA partner universities from the United Kingdom (UK): the University of Glasgow, Swansea University (SU), and Liverpool John Moores University (LJMU).
The event commenced with opening remarks and target-setting by the PAMANA Project Leader in the Philippines, Dr. Decibel V. Faustino-Eslava, Professor, UPLB School of Environmental Science and Management (SESAM) and PAMANA Project Co-Leader from University of Glasgow, Dr. Richard David Williams. The training was designed to have lecture presentations and field demonstrations on novel environmental and ecological monitoring techniques for water environments. It sought to build the capacity of Philippine researchers, government monitoring agencies, and mining companies to monitor and mitigate the environmental and social impacts of mining, now and in the future. 
Project PAMANA's ultimate goal is to pave the way for a new era of sustainable mining in the Philippines by developing practices and policies that empower government agencies, mining companies, scientists, and communities to minimize the environmental and ecological impacts of mining. This is a three-year project funded by the Philippine Department of Science and Technology and monitored by the Philippine Council for Industry, Energy and Emerging Technology Research Development (DOST-PCIEERD), and by the UK Natural Environmental Research Council (UK-NERC).

The first day of the workshop-training started with lecture presentations on Water Quality and Salt Dilution Gauging Methods and on Diffusive Gradient in Thin Films (DGT) Passive Samplers by PAMANA partner scientists from LJMU, Dr. Patrick Byrne and Dr. Emma Biles, respectively. Dr. Richard Williams also presented the Acoustic Doppler Current Profilers (ADCPs). The whole group then visited a river in Calauan, Laguna for a field method demonstration on water quality and sampling using DGT.
The training continued on the second day with a lecture on collection, identification and preparation of fish samples by SESAM Faculty, Dr. Loucel E. Cui. SESAM Researcher, Dr. Alma Lorelei DJ. Abejero also discussed the principles of laboratory analysis of samples.
The morning session of its third day started with a lecture on DGT Data processing with Emma Biles of Liverpool John Moores University followed by a lecture on collection, identification, and Preparation of Macroinvertebrates with Dr. Emmanuel Ryan C. De Chavez of UPLB. The whole team then proceeded to Pagsanjan River in Lumban, Laguna and conducted the river discharge measurement using ADCP M9 and ADCP RS5 led by Drs. Emma Biles and Laura Quick.
The last day of the training-workshop concluded with a field activity and demonstration of fish sampling and identification by Dr. Loucel E. Cui and salt dilution gauging by Mr. Aaron Todd at the UPLB Molawin Creek. A lecture on ADCP Data Processing was also delivered by Dr. Laura Quick in the afternoon followed by a Strategic Meeting of the five different work packages of the project.
The four-day training was held in preparation for the month-long data gathering of the project in the Provinces of Benguet and Pangasinan. It was attended by UPLB PAMANA project staff and researchers from its partner agencies in the Philippines such as the Caraga State University, the University of Southeastern Philippines, and the UP Diliman-Department of Mining, Metallurgical and Materials Engineering; mining professionals from Itogon-Suyoc Resources Inc. (ISRI) and from the Philex Mining Corporation; and government staff from Environmental Management Bureau-Cordillera Administrative Region.