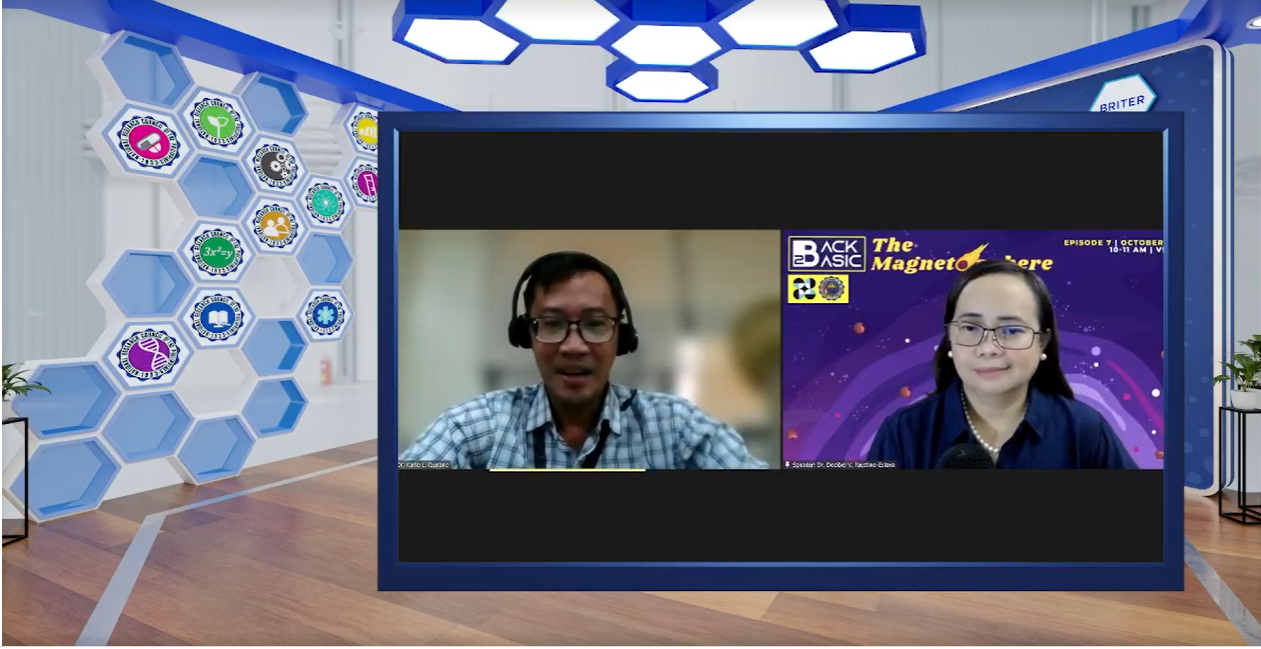 The Department of Science and Technology – National Research Council of the Philippines (DOST-NRCP) organized a virtual class program called Back to Basic. The Back to Basic or B2B is an effort of the DOST-NRCP to present difficult theories or science concepts in popular language and in a fun way using videos and infographics for kids, students and teachers, and the general public. It is one of the online platforms under the NRCP project "Leveraging Basic Research Information Translation for Empowerment in the Regions Program (BRITER) to enhance science culture in every Filipino.
Today's episode of B2B featured the UPLB SESAM inhouse geologist, Dr. Decibel V. Faustino-Eslava. Dr. Eslava is an expert in bio-geology, environmental geology, geologic hazards, geochemistry, paleomagnetism and tectonics. She also handles numerous research projects on climate change impacts, adaptation and disaster risk reduction and management.
Her talk on "The magnetosphere: a defender against extraterrestrial energies and the earth's earliest historian" focuses on defining magnetosphere, its importance in protecting life on our planet, and the relation of the earth's magnetic field behaviour to plate reconstruction studies.
Aside from the layer called atmosphere that protects the surface of the planet from incoming cosmic radiations, asteroids, and other flying debris, there is "another larger, wider layer of protection that is not popularly discussed: the magnetosphere" emphasized by Dr. Eslava.
She presented a study by Queano, et. al (2007) showing how the Philippine archipelago evolved. According to the study as presented by Dr. Eslava, its evolution started "about 50 million years ago, when the island of Palawan was still attached to Mainland Asia, and the islands of Luzon, Visayas and Eastern Mindanao, or collectively referred to as the Philippine Mobile Belt (PMB), was still still located in the southern hemisphere, close to where Indonesia is now positioned."
Dr. Eslava narrated that the PMB started to rotate clockwise and move up north as portions of the Philippine Sea Plate also started to form. She presented the circumstances that led to the Philippine archipelago assembled to how we see it today.
The open forum facilitated by Dr. Karlo L. Queano, Chair of the NRCP Earth and Space Science Division, brought interesting discussions, digging deeper on the field of magnetism, on earth, and on tectonics.
In her closing message, the NRCP Executive Director, Dr. Marieta A. Banes Sumagaysay encourages everyone to join the upcoming episodes of the B2B and other learning activities being organized by the DOST-NRCP.
The event was conducted via video conferencing and was streamed live on the NRCP Research Pod and was attended by over 400 participants. (RLDAreglado).