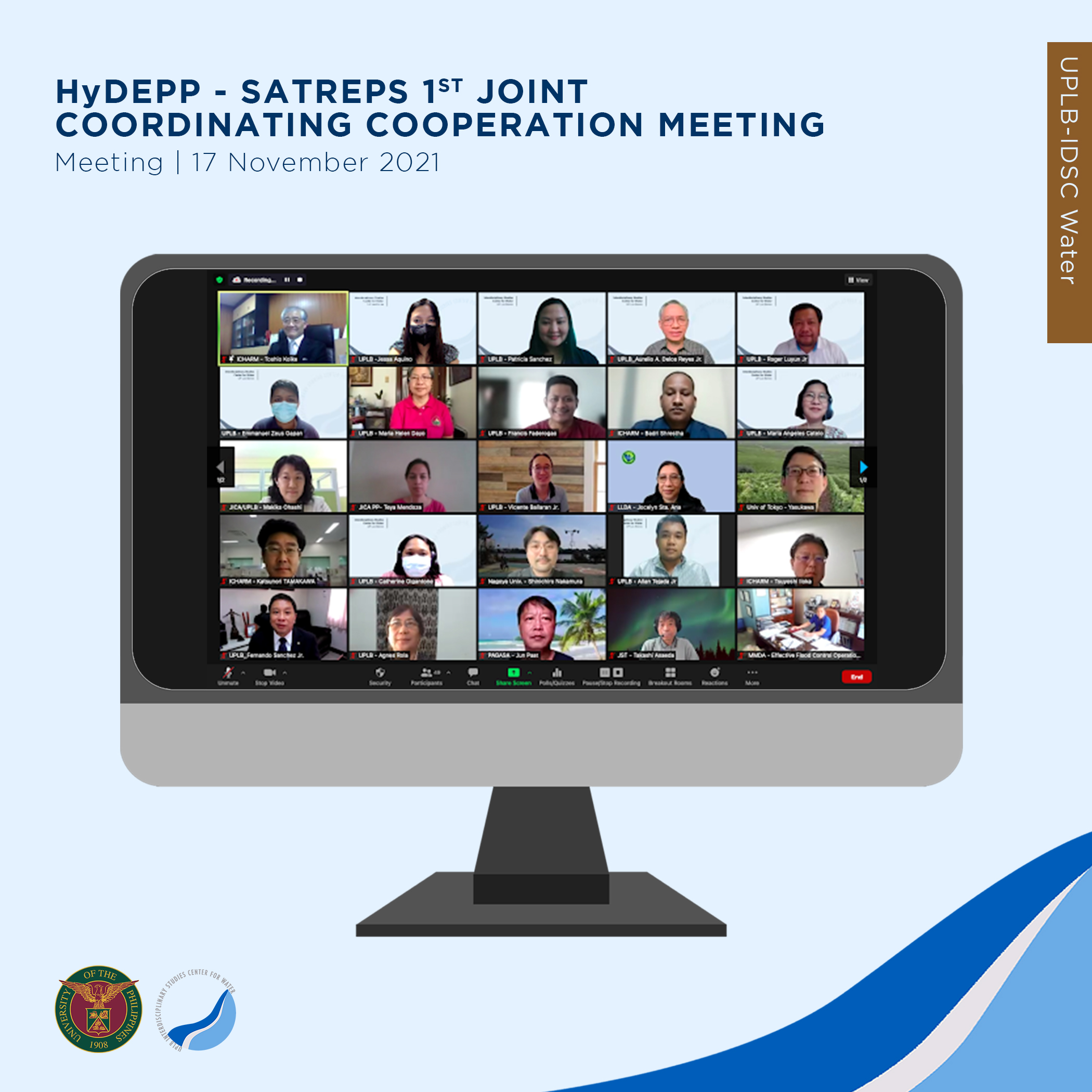 The UPLB Interdisciplinary Studies Center for Water project entitled Development of a Hybrid Water-Related Disaster Risk Assessment Technology for Sustainable Local Economic Development Policy under Climate Change in the Philippines (HyDEPP-SATREPS) held its 1st Joint Coordinating Committee Meeting on 17 November 2021 via online conferencing.
This event served as an avenue to review and present the project progress. Part also of the meeting was the discussion of challenges encountered by the parties and upcoming plans. This meeting was attended by 54 participants coming from several agencies and offices, composed of JCC members from the project management team, sub-group leaders, and cooperating agencies. The project group members also attended and served as observers during the meeting. Present from the project management team were Dr. Toshio Koike, Executive Director and Mr. Hiroyuki Ito, Deputy Director.
Ms. Ohshima Ayumu, Senior Representative of JICA Philippines officially opened the program wherein she highlighted the need for structural and non-structural measures in response to climate change implications. She assured that JICA will continue to support disaster risk reduction in the country.
The highlight of the meeting was the presentation of sub-group accomplishments and future plans. Dr. Fernando C. Sanchez, Jr., Project Director from the Philippines, provided the overview and summary of the project outputs. He mentioned that setting directions for the remaining years is the main reason for the meeting.
The project comprises 4 sub-groups or components namely: data collection and sharing, flood and drought risk assessment, resilience assessment, and economic scenario and policy recommendations. For their part, Dr. Roger A. Luyun, Jr. and Dr. Masaki Yasikawa presented the research plans on data collection, data management system through Data Integration and Analysis System (DIAS), data processing, and flood early warning system. Updates on the server room located in UPLB Knowledge Hub were also mentioned.
Dr. Aurelio Delos Reyes, Jr. and Dr. Mohamed Ramsy Adbul Wahid, sub-group 2 leaders, presented the newly added members of their group. They presented the outputs in simulation of the inundation area during Typhoon Ulysses and some technical aspects of their study.
For resilience assessment, Dr. Patricia Ann J. Sanchez and Dr. Miho Ohara highlighted their efforts through interviews, and analysis of resilience data in affected areas of Typhoon Ulysses. The end-to-end framework approach in relation to resilience was also emphasized. Dr. Ohara presented lake studies as the newly added component of their group and some in-house training being conducted in Japan, which is also planned to be conducted in the Philippines.
Economic scenarios and governance components were discussed by Dr. Ma. Angeles O. Catelo, Dr. Agnes C. Rola, and Dr. Muneta Yokamatsu. They also presented the highlights of their survey efforts for the Typhoon Ulysses which include flood prevalence and intensity and agricultural and social damages. Part of the presentation is the need for initial institutional analysis-local governance of plans, programs, ordinance and concerns related to disaster risk reduction and management in the city/municipality. Lastly, they discussed the technical results of test rubs of Monte-Carlo simulations and the methodological framework of their study.
The cooperating agencies, namely Laguna Lake Development Authority (LLDA), Metropolitan Manila Development Authority (MMDA), Department of Science and Technology (DOST), Philippines Atmospheric Geophysical and Astronomical Services (PAGASA), JICA Philippines, and Japan Science and Technology (JST), actively participated during the open forum.
The project team is hopeful that all the projects plans and efforts will be materialized and collaboration in research activities will be fostered.