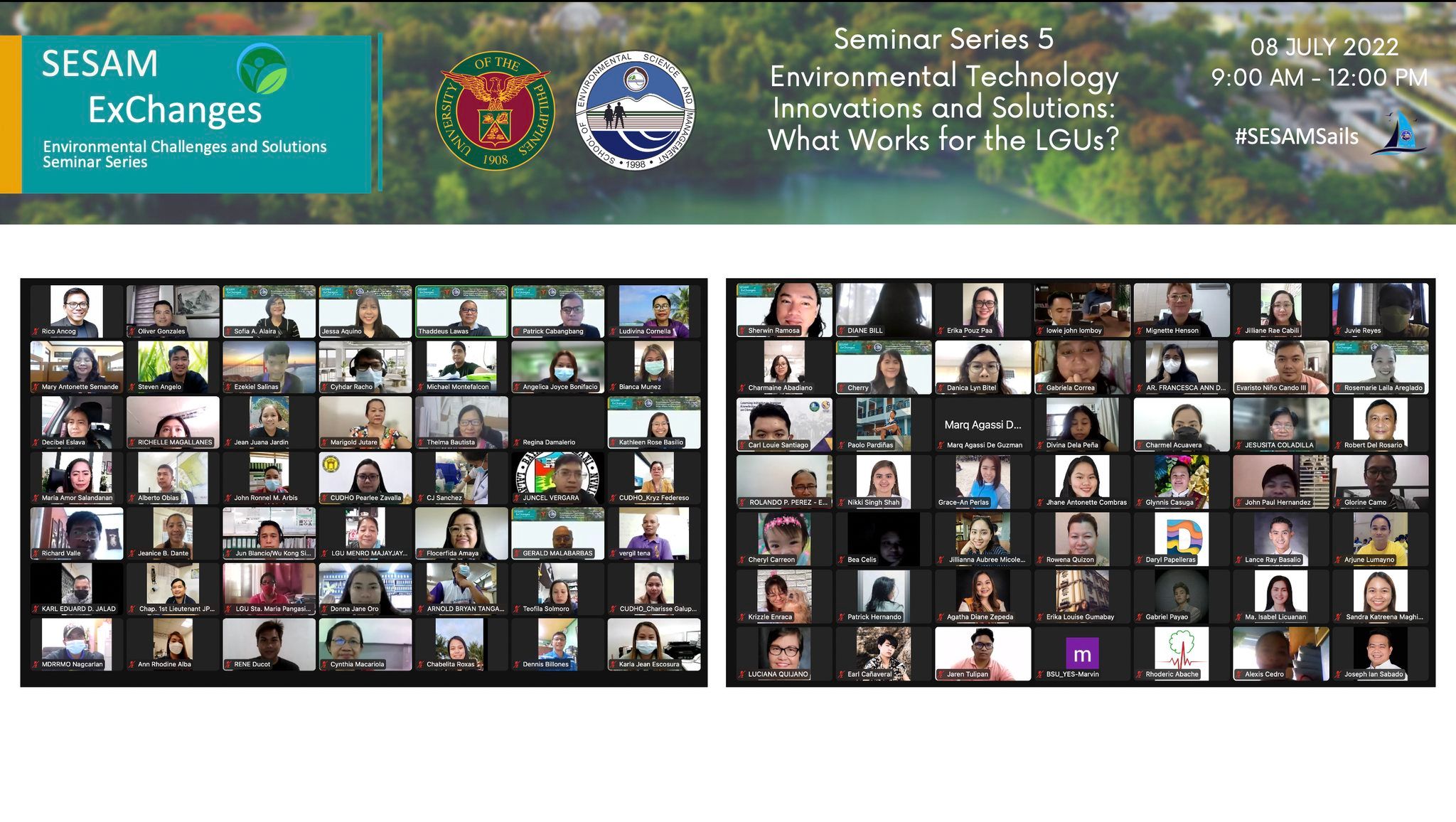 The School of Environmental Science and Management-University of the Philippines Los Baños (SESAM-UPLB) invited two City Environment and Natural Resources Officers to discuss successful technologies, innovation and solutions applied in their respective localities during the 5th Seminar Series of SESAM ExChanges last July 8, 2022 via Zoom and Facebook Live. SESAM ExChanges is an environmental challenges and solutions seminar series organized by the Continuing Education and Training Division (CETD) of SESAM.
Through the SESAM Exchanges, SESAM intends to actively engage the participation of the public and promote environmental awareness and advocacy. The School is confident that all sectors, most especially the local governments, are in good standing in operationalizing the pursuit of sustainable development, specifically in the balancing between the protection and conservation of environmental and natural resources, and of the economic development.
Environmental technologies and eco-innovations, particularly those implemented in local government units (LGUs) play a critical role most especially now that the world is now experiencing the impacts of Climate Change particularly through the varying frequency and intensity of climate-induced hazards like tropical cyclones and flooding. These are exacerbated by the ongoing pandemic crisis wherein the impacts of global economic problem add to the challenge in achieving the sustainable development particularly at the local level.
The SESAM-CETD invited Mr. Oliver C. Gonzales and Engr. Maria Amor A. Salandanan, EnP., the City Environment and Natural Resources Officers of Batangas City, Province of Batangas and Santa Rosa City, Province of Laguna, respectively.
Batangas City: Toward sustained environmental management efforts
In his presentation, Mr. Gonzales, who is also the current President of the League of Local Environment and Natural Resources Officers of the Philippines, related that even during the pandemic, the City ENRO of Batangas City continuously monitors the air quality of the city, using high-volume gas analyzer for NOx and PM2.5. They also regularly monitor water quality and use atomic absorption spectrometer for heavy metals analyses.
He also enumerated the various eco-innovative programs on solid waste management using plastic shredder machine, and the operationalization of materials recovery facilities (MRF); clean energy utilization such as micro-grid solar electrification, solar-powered irrigation; solar-powered street lights and distribution of e-trikes; and mangrove afforestation program as part of its wider blue carbon initiative.
"In the future, we will establish the Batangas City Eco Park and Wildlife Rescue Center", Mr. Gonzales said. He also presented the illustrations of the Eco Park that will also have an aviary and sanctuary. In addition to the City's environmental code, which SESAM helped in crafting, Batangas City is now working on its local energy code.
Santa Rosa City: Toward sustained government and industry collaboration
For her part, Engr. Salandanan detailed Santa Rosa City's initiatives in monitoring water, which include their partnership with the Santa Rosa Watershed Management Council, Save Silang-Santa Rosa River Foundation Inc., and Laguna AAA Water Corporation. For air monitoring, Santa Rosa City maintains monitoring stations for Sox, NOx, PM2.5 and PM10. Engr. Salandanan also mentioned that the city also has a masterplan for the implementation of bike lanes and pedestrians, as well as greenway and urban green projects.
As for their solid waste management, Santa Rosa City implements segregation at source, operationalized MRFs, transforming organic wastes into charcoal briquettes, and continue to operate a sanitary landfill. "We have a continuing partnership with Toyota Motors, Coca Cola and San Miguel Corporation for the bulb-eater facility and the glass bottle recycling and redemption", Engr. Salandanan said.
Pipeline projects for Santa Rosa City include construction of a facility for infectious and pathological wastes in response to the adaption to pandemic scenario; integrated waste management facility breakwater and Protected area development; and the Digital Resource and Infrastructure Management (DRIM) Network for Green Digital Cities of the Philippines (in partnership with the Department of Science and Technology and SESAM-UPLB).More than 300 City ENROs and representatives from the other local government units, participants from national government agencies and academe attended this latest instalment of SESAM ExChanges. As UPLB's leading academic unit focused in championing environmental sustainability, SESAM further highlight the potential of the SESAM ExChanges as an opportunityu for other LGUs to learn and share from each other the various eco-technological innovations that could be instrumental in strengthening the country's environmental management program. (ECCalzeta and TPLawas)