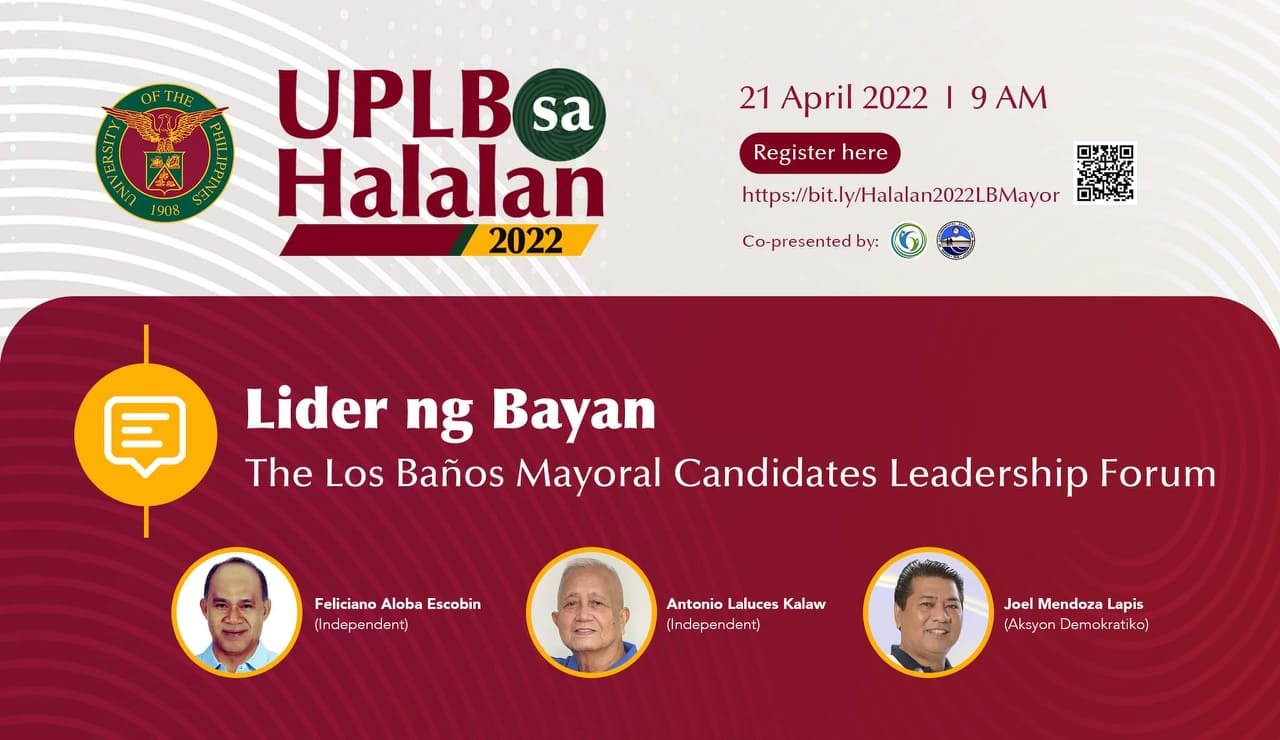 Solid waste management was identified as among the major environmental concerns in the Municipality of Los Baños during the recent interviews with three mayoralty candidates. This concern was aired during the UPLB sa Halalan 2022- The Los Baños Mayoral Candidates Leadership Forum, co-presented by the College of Human Ecology (CHE) and the School of Environmental Science and Management (SESAM) of the University of the Philippines Los Baños (UPLB) on April 21, 2022. More than 100 attended the forum via Zoom and Facebook Live.
Three candidates attended, namely Mr. Feliciano Aloba Escobin, Engr. Joel Mendoza Lapis and the incumbent, Mayor Antonio Laluces Kalaw. The other candidates were also invited, unfortunately, conflict of schedule prevented them to attend the forum.
Engr. Lapis, son of the former Mayor Frank Lapis, said there is a need to properly use the material recovery facilities of the barangays in the municipality. He added that composting facilities must be installed per barangay. "Lets tap experts from UPLB in solid waste management", he stressed.
Mayor Kalaw said that segregation should start at home. "Lets consult with the university on how can we help each other in the right system of solid waste management", he said. Mayor Kalaw also mentioned the establishment of transfer station for easier carrying of garbage and lessen the risk posed to the collectors.
"We should help each other for segregation", Mr. Escobin said. He added that segregation must be implemented first within the household, and he plan to issue color-coded garbage bags, to identify the different types of segregated household wastes and this will be strictly implemented.
On preservation of Mt. Makiling
"Mt. Makiling is protecting us from calamities and we are continuously coordinating with UPLB in protecting it", Mayor Kalaw said. "We should not allow cutting trees and reduce the illegal settlers and we should give them assistance, such as housing projects", he added.
"I live here in the foot of Mt. Makiling, to preserve this, I will fight for the conservation of Mt. Makiling and we should not allow illegal settlers there in respect to our forest", Mr. Escobin stressed. He added that in order to preserve Mt. Makiling, we should follow the law.
Mr. Lapis said that we borrowed Mt. Makiling from our future generation. "Let's invite peoples organizations, the experts and other government agencies to help us to take care of this and the environment", he added. Engr. Lapis also mentioned that tourism in Mt. Makiling can help in creating our job opportunities for Los Baños citizens.
Plans for the municipality
Mr. Escobin said he will respect the vote of the people. "Even if I will lose in this election, I will continue to support the winning candidate and possibly offer some solutions in the town's problems in environment, such as global warming, in traffic, scholarship and public safety" he added.
"As an engineer, my expertise can definitely be utilized… we are ready to help and offer our plans and respect the vote of our people", Engr. Lapis mentioned. Engr. Lapis is also an advocate for the use of renewable energy as he is involved in solar power farm projects. He reiterated that his father, former Mayor Lapis, initiated the branding of Los Baños as "Science and Nature City" in 2000.
For his part, Mayor Kalaw said he has a lot more to offer and very willing to cooperate with the university so that the environment of Los Baños will be protected. "In this opportunity, I will pursue for our constituents of this town to construct a public hospital, housing project for those living in danger zones and illegal settlers", Mayor Kalaw said.