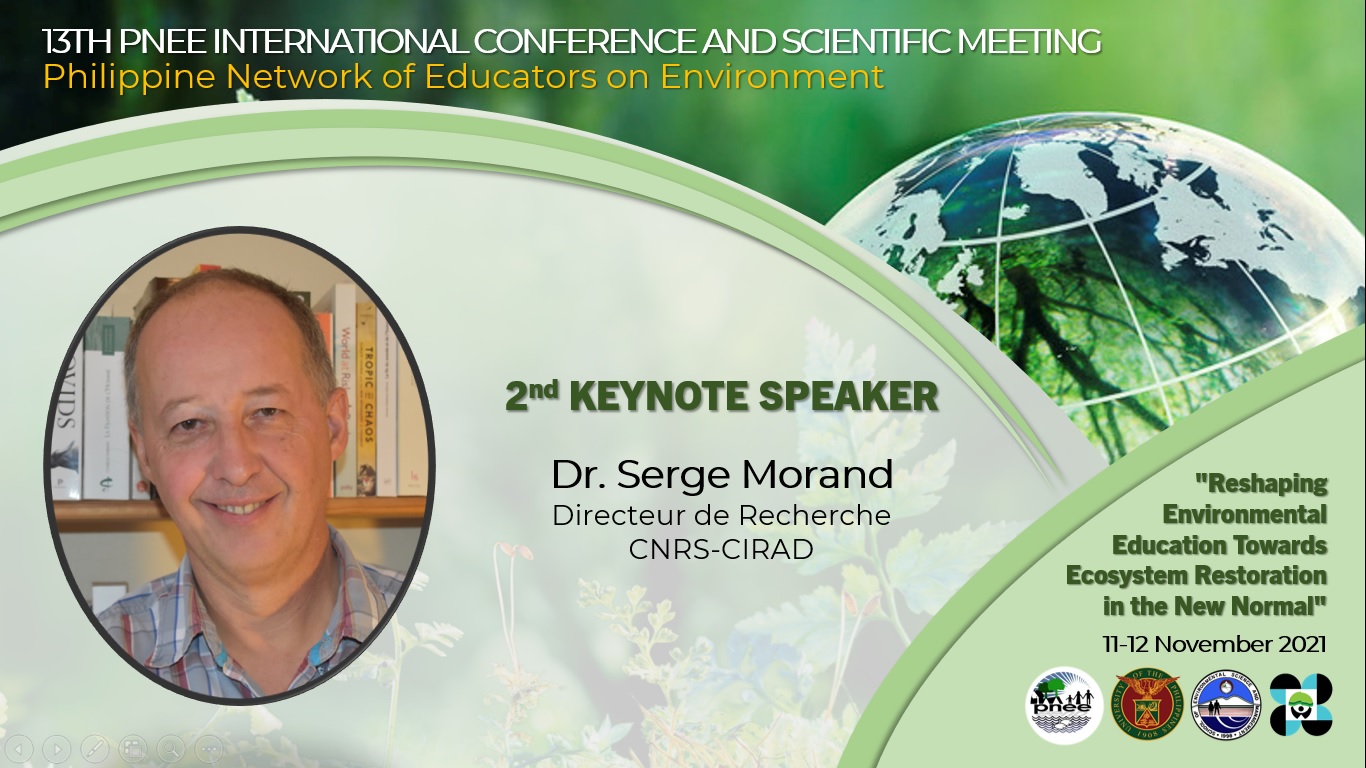 One of the major highlights during the recently concluded 13th PNEE International Conference and Scientific Meeting held last 11-12 November 2021 was the keynote talk of Dr. Serge Morand, Director for Research of the French Scientific Research Council and CIRAD.
An expert in ecology of disease transmission and its application in health ecology Dr. Morand works as a field parastilogist focusing on the epidemiology of zoonotic and other infectious diseases.
In his talk, he elaborated the apparent acceleration of epidemics and disease which has been a concern due to increases in outbreaks of novel zoonotic and vector-borne diseases as well as diseases affecting livestock and poultry, and the increase in incidence of plant and animal fungal diseases. Taking the global and several cases in Southeast Asia, he elaborated on the ecology of diseases and its epidemiology in the new normal as well as in the present and future scenarios for the COVID-19 pandemic.
He further indicated that this increase in spread and emergence of diseases is connected with the increase in connectivity, efficiency and accessibility in global trade and travel. This shows that the increase in connectivity between territories has globalized epidemics and served as an avenue to facilitate the transmission and spread of diseases.
Furthermore, the increase in emergence of diseases, especially zoonotic diseases, has been observed to be linked with increase in urbanization with increased activities linked with human encroachment into wildlife territory for land conversion, and production of livestock and poultry. The close association of humans with animals, and the overlapping boundaries between their habitats have opened potential infection pathways for novel and re-emerging disease, Dr. Morand even showed studies in relation to the COVID-19 pandemic wherein animals in close association to humans have the potential to serve as reservoir host for the SARS-CoV-2 virus. These findings are important in the epidemiological cycles of the pandemic especially in the virus' survival in the environment.
All in all, globalization and increases in the rates of urbanization has facilitated a connection between disease emergence, epidemics, and human communities. It also caused a scaling effect due to: (1) increases in activities connected with urbanization and land conversion, (2) improved connectivity due to improvements in efficiency and accessibility in travel, (3) increase in trade activities and access to territories, and (4) and increase in the proximity of animals with human settlements due to increases in demand for livestock and poultry.
The talk of Dr. Morand is one of the three keynote talks in the two-day virtual conference organized by the PNEE with UPLB-SESAM as the host. It aims to promote sustainable development through a strong and independent network of Philippine institutions able to provide national and local government, non-government organizations, people organization, and local communities advice and expertise on environmental education policies and programs appropriate to the needs of local and regional conditions.
The UPLB-SESAM has taken the lead in the foundation of PNEE and has been serving as its permanent secretariat all these years. At present, PNEE has 92 institutional members (state universities and colleges and non-government organizations) and 785 individual members (faculty, and researchers) throughout the Philippines.About 180 faculty members, researchers, government agencies employees and students attended the event via video conferencing (Gil Gabriel Villancio).