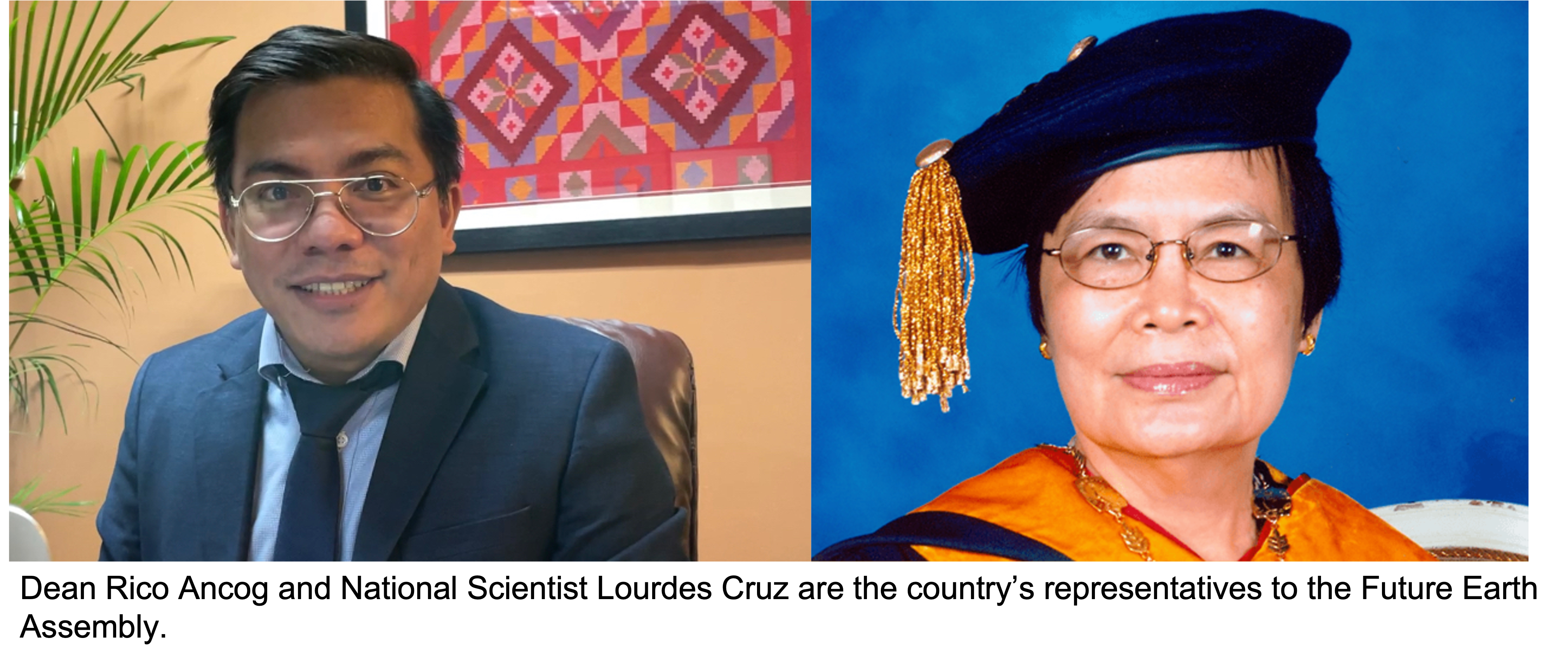 A program for global sustainability, Future Earth will conduct its first general assembly meeting on September 29 to 30, 2021 via Zoom. Dr. Rico C. Ancog, Dean, School of Environmental Science and Management-University of the Philippines Los Baños (SESAM-UPLB), along with Dr. Lourdes J. Cruz, National Scientist and Professor Emeritus, University of the Philippines Diliman, will represent the Philippines in this meeting.
Dean Ancog was selected by Academician Dr. Rhodora Azanza and Dr. Cruz, to join the latter. Only two representatives will be allowed per country, Dr. Cruz will represent the mid-career and senior cohort, while Dr. Ancog will be the representative for the young to mid-career group. The inaugural Assembly meeting is dedicated to finalizing the Future Earth transition process, and launching a new inclusive governance structure that will make Future Earth better equipped to serve its global mission. Strategic discussions regarding the global agenda and activities of Future Earth will take place in the annual Assembly meetings, starting with the 2022 Assembly meeting, which will be held in Pretoria, South Africa, back to back with SRI2022 in June 2022.
The Future Earth assembly will feature plenary presentations from the Governing Council Co-Chair Maria Uhle and custodian organization representatives. This meeting will be attended by representatives by all Future Earth entities. Through the Assembly, these entities will now have a voice to set priorities, influence strategic directions and elect the new Governing Council. The first day of the Assembly meeting will be dedicated to building a common understanding of the key aspects of Future Earth's transition. The second day of the meeting will focus on forming the new Governing Council.
Future Earth builds on over two decades of international science collaboration in the following: World Climate Research Programme (WCRP); International Geosphere-Biosphere Programme (IGBP); Diversitas, an international research program to integrate biodiversity science for human well-being; and the International Human Dimensions Programme (IHDP) on global environmental change. It is sponsored by the Science and Technology Alliance for Global Sustainability consisting of ICSU, the International Social Science Council (ISSC), the Belmont Forum of funding agencies, UNESCO, UNEP, the United Nations University (UNU), and the World Meteorological Organization (WMO).
As a program for global sustainability, Future Earth aims to generate knowledge needed to provide timely information for policy makers and citizens to find and engage in science-based solutions to the multifaceted problems that beset humans today. Future Earth presents a platform for solution-orientated research and action research along three main themes, namely: dynamic Planet: to understand how the earth is changing; global development: to provide knowledge to support human development priorities; and transformation towards sustainability: to understand transformation processes and options. Since the Philippines remains a hotspot for environmental challenges and has been operating in a non-sustainable mode for over 50 years, based on the Global Ecological Footprint Network. Deforestation, degradation of marine and coastal ecosystems, heavy pollution and high population growth contribute to the increasing vulnerability of the country. Due to these, Future Earth Philippines Program (FEPP) was established to align with Future Earth.
Under the Department of Science and Technology-National Research Council of the Philippines (DOST-NRCP) and the National Academy of Science and Technology (NAST), FEPP aims to establish a collaboration with other councils, agencies, institutions and stakeholders. Further, it aims to provide scientific and social basis for policies that will serve as guide for better coordination and more rapid and effective responses to the current challenges that impact on human well-being, national survival and sustainability, and improve citizen action and stakeholder participation in the country's journey towards sustainability and resilience.
In 2019, SESAM faculty and researchers, led by former Dean, Dr. Decibel F. Eslava, contributed in the writing of the proposal for the development of FEPP. The project funded by DOST, will have work stations at UP Diliman and UPLB.