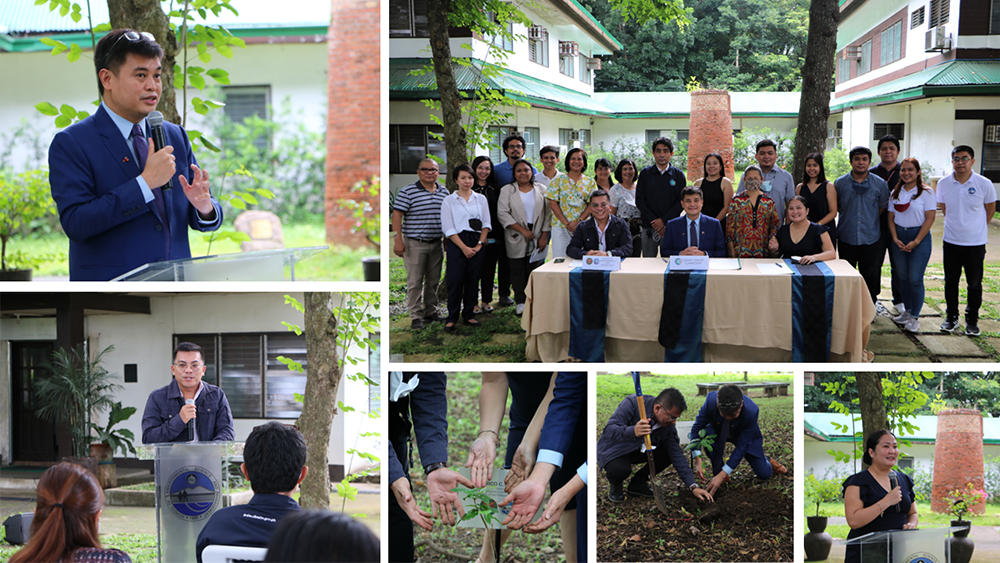 Climate Change Commission (CCC) Secretary Robert E.A. Borje visited the University of the Philippines Los Baños – School of Environmental Science and Management (UPLB-SESAM) for the formalization of the partnership between the two agencies last 12 July 2022 at SESAM Academic Quadrangle.
Both parties recognize the importance of science-based policies, therefore, the commitment gave importance to the science-based approaches in formulating climate policies both for national and local government.
In his welcome remarks, Dean Rico C. Ancog emphasized the ability of SESAM to perform an active role in the formulation of systematic mitigation and adaptation measures to reduce exposure, and the nurturing of collective mindset to support and strengthen the nation's resilience. "We definitely understand the responses to climate change and the suite of impacts it has is complex, multidimensional, and would require no less than the whole nation, whole government approach, and must be geared always to strong solutions-formulation orientation", he added.
Dean Ancog also enumerated SESAM current services in instruction, research, and extension that centers on the science and practice of sustainability.
Secretary Borje believed that educators play an important role to equip the young generation to have a critical mind to identify problems and find solutions. "Academe is an important torch bearer", Sec. Borje said in his message.
"As we are partnering with the academic institutions, we are harnessing not just the hardware, not just the software, but what we call 'humanware'," said Sec. Borje.
Recognizing the strength and capabilities of UPLB-SESAM as an interdisciplinary institution, Sec. Borje stressed that the School would be a great help in addressing 'humanware' requirements for Philippine climate resiliency.
He expressed his profound thanks to SESAM for engaging CCC in its role towards achieving a carbon-neutral country and building a sustainable nation.
The ceremonial signing of the letter of commitment was followed by a closing remark from Dr. Patricia Ann J. Sanchez, Chair of the UPLB Interdisciplinary Studies for Water and a Faculty member of UPLB-SESAM.
To mark this meaningful partnership, a tree-planting activity was conducted. Dr. Ancog, Sec. Borje, and Dr. Sanchez led the activity and planted two molave (Vitex parviflora) trees within the vicinity of SESAM.  With this commitment, UPLB-SESAM is one with the CCC in engendering meaningful impacts to all the Filipinos. (RDAreglado)