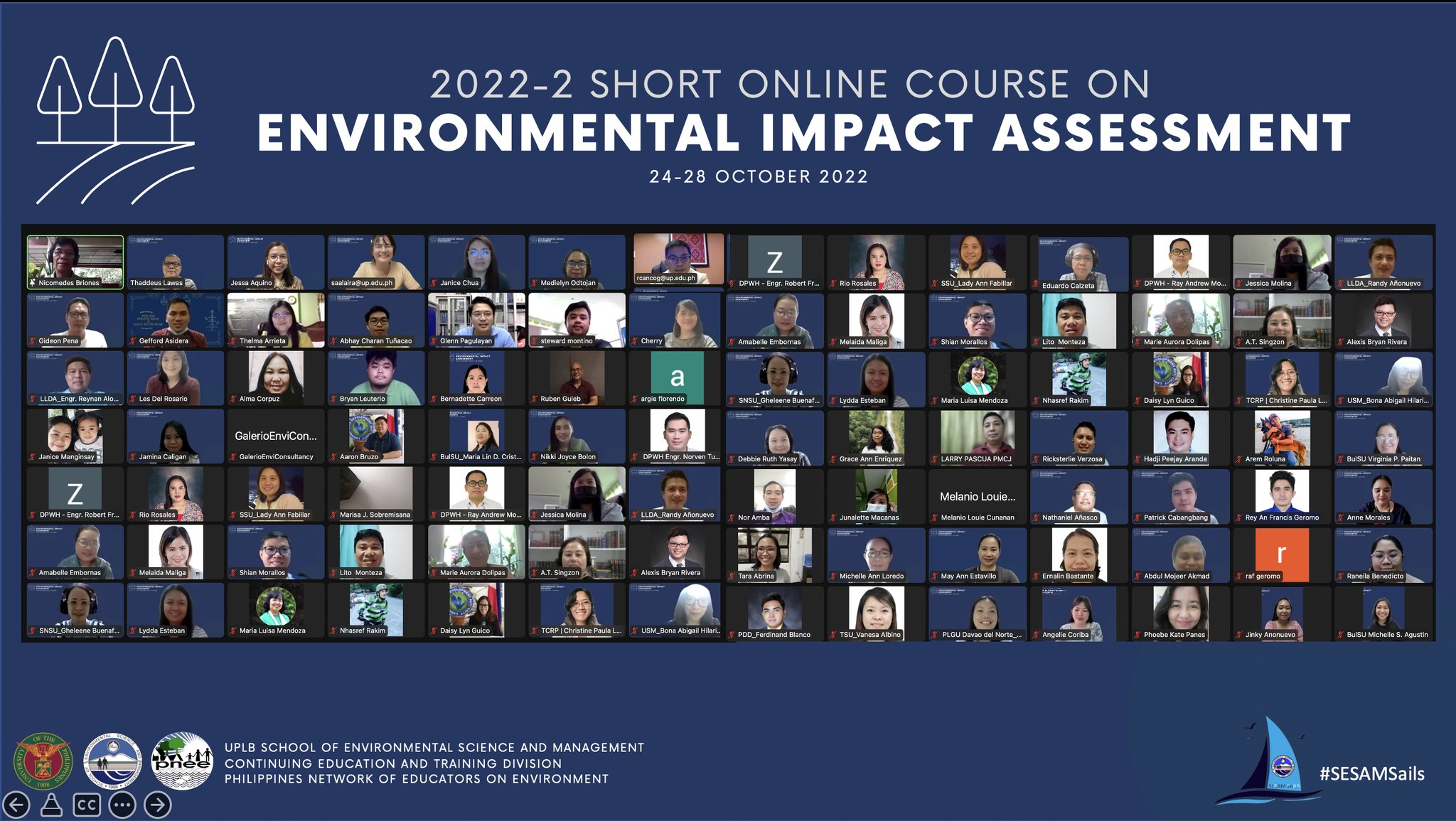 The School of Environmental Science and Management through its Continuing Education and Training Division (SESAM-CETD) conducted the another batch of short online course on Environmental Impact Assessment (EIA) for 2022 last October 24 to 28, 2022 via Zoom.
This second batch for 2022 is a testament that EIA training is in demand and very relevant to the professions of various practitioners. This EIA course aims to provide the participants with knowledge about the technical aspects and administrative procedures of the Philippine EIS System; discuss the key elements of the current EIA procedures and processes, including the existing laws and policies relevant to the conduct of EIA impart knowledge on how to identify and predict the impacts of proposed development projects and programs relevant to the fields of specialization of the participants; strengthen the technical capabilities of the participants in environmental management, especially in environmental compliance and monitoring; enhance the participants' skills and knowledge on how to conduct an Environmental Impact Assessment (EIA); and provide a better appreciation of the application of science in the methods of EIA preparation.
In the opening program, SESAM Dean, Dr. Rico C. Ancog said SESAM is aware of the need to strengthen the way we proceed with our development work, in any effort from the national government down to the LGUs. "We understand that we have to balance environment and development and make sure that the economic dimension and the environmental considerations will have a voice with the way we proceed in decision making", Dr. Ancog added.
With Dr. Ancog leading the way as he lectured on resource economics assessment, majority of the speakers came from SESAM. Among them were Dr. Decibel F. Eslava (biophysical assessment: geology, soil, and land use); Dr. Alma Lorelei D. Abejero (EIA in the context of sustainable development and air and climate); Dr. Loucel E. Cui (water quality and aquatic biodiversity assessment); Dr. Patricia Ann J. Sanchez (water quantity); Dr. Badi R. Samaniego (marine ecosystem assessment); Dr. Evaristo Niño T. Cando III (social impact assessment and health impact assessment); Dr. Eduardo C. Calzeta (climate change); Dr. Marisa J. Sobremisana (environmental risk assessment); and retired professor and dean, Dr. Nicomedes D. Briones (EMP and EMoP).
Resource speakers were also invited from different units and agencies. Dr. Pastor Malabrigo of the College of Forestry and Natural Resources (CFNR), UPLB was again invited to discuss terrestrial biodiversity. Experts were again invited from the Department of Environment and Natural Resources-Environmental Management Bureau (DENR-EMB). They were Engr. Divina Camarao, Chief of EIA Section (introduction and overview of PEISS and EIA: EIA as a Planning, Management, and Regulatory Tool and Laws, Policies and Institutional Arrangements for EIA System) and For. Riza C. Arjona, Senior Environmental Management Specialist (categories of EIA and EIA process and decision-making).
On the last day of the training, Dr. Hussein S. Lidasan of the School of Urban and Rural Planning (SURP), UP Diliman lectured on review of EIA quality and decision-making. Dr. Lidasan also provided the critique of the workshop outputs of the participants, as they were divided into three groups.
One of the participants, Ms. Debbie Ruth Yasay, who works with Greencorp Philippines, a private organization, was very appreciative of what she learned during the five-day training course. She also mentioned that she is eager to learn more– as she is now contemplating to take a PhD Environmental Science course at SESAM.
This year's second batch attracted 78 participants from the academe (30.7%), national government agencies (8%), government owned and controlled corporations (10.7%), local government units (6.7%), private institutions (24%) and non-government organizations (6.3%) and environmental practitioners (14.7%).