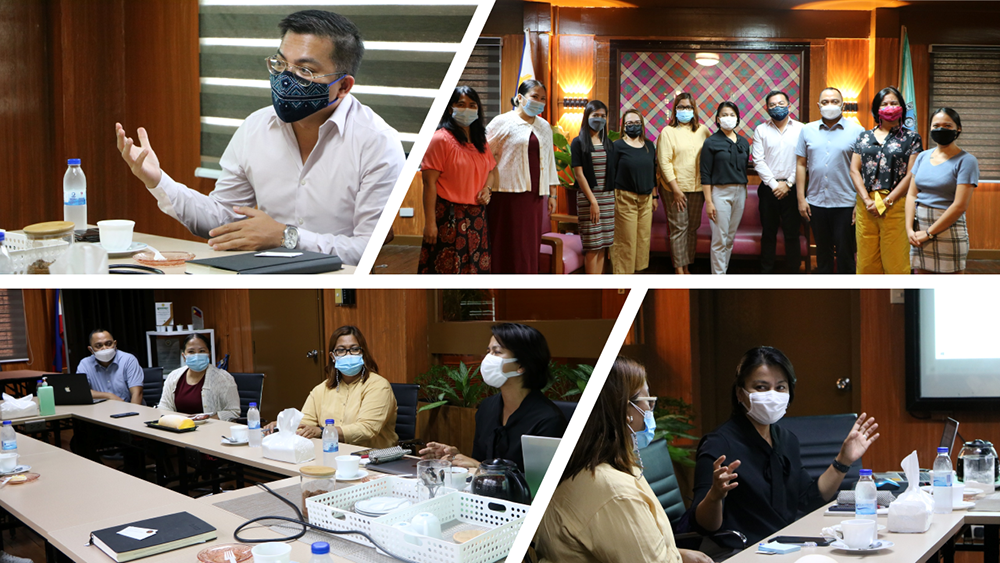 The Balik Scientist Program of the Department of Science and Technology (DOST) aims to help the country by encouraging highly trained overseas Filipino scientists, professionals, and experts to return to the Philippines and share their expertise for the acceleration of the scientific, agro-industrial, and economic developments of the country.
Last July 1, 2022, Dr. Myra Villareal, a Balik Scientist from the University of Tsukuba in Japan visited UPLB School of Environmental Science and Management (SESAM) and presented opportunities for academic and research collaborations between two institutions.
The meeting revolved around the possible services SESAM can offer to Dr. Villareal and to Bicol University (BU) as Dr. Villareal's host university for her Balik Scientist Program. With Dr. Villareal is the Dean of the College of Science of BU, Dr. Jocelyn E. Serrano, and BU Research Staff, Ms. Anna Liza T. Bongalonta, and Ms. Eliza Joyce M. Perillo.
Dr. Villareal and the delegates from BU were welcomed by SESAM Dean Rico C. Ancog together with SESAM Faculty members, Dr. Patricia Ann J. Sanchez and Prof. Eduardo Roquino and Researchers, For. Sofia A. Alaira, Cherry S. Padilla, and Rosemarie Laila D. Areglado.
For academic collaboration, Dr. Villareal introduced the Project for Human Resource Development Scholarship by Japanese Grant (JDS) that offers scholarships for Master's Degree in Environmental Science and Doctors in Philosophy in Environmental Studies. She also presented different programs of the University of Tsukuba and proposed to set up project proposals for collaborative research between the two countries.
SESAM Dean Rico C. Ancog emphasized the interdisciplinarity of SESAM. "The engagement of SESAM will be coming from our strength", said Dr. Ancog. He also mentioned that SESAM is open for partnership with the Bicol University for possible joint research proposal and research implementation.
With the mandate of the UPLB as a national university, SESAM is poised to empower and capacitate state universities and other institutions such as BU through collaborative undertakings in human resource development.
SESAM offered short training programs that BU may avail for capacitating its human resources. Dean Ancog also mentioned the Journal of Environmental Science and Management (JESAM) that can support the needs of BU for mentoring on journal management and scientific writing. (RDAreglado)