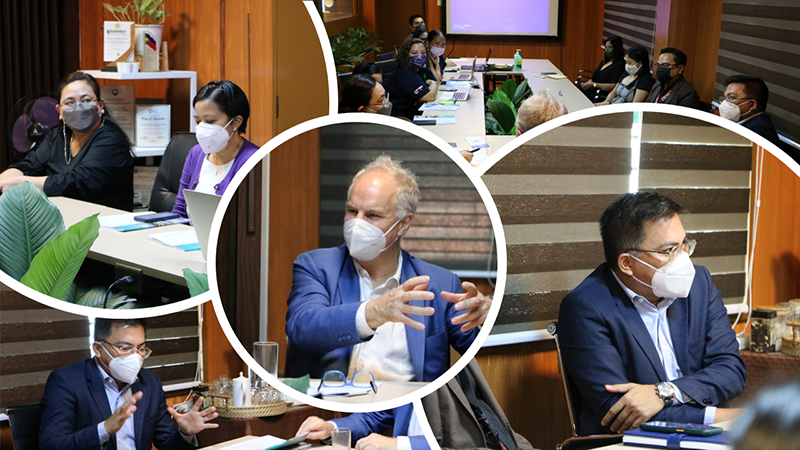 After a courtesy visit to UPLB Chancellor, Dr. Jose V. Camacho, Jr., the School of Environmental Science and Management (SESAM) led by Dean Rico C. Ancog, held a meeting with Professor Andrew Campbell, the Chief Executive Officer of the Australian Centre for International Agricultural Research (ACIAR) last 25 July 2022 at SESAM boardroom as part of Prof. Campbell's visit to the Philippines.
The delegation consisted of Professor Campbell, ACIAR Philippines Country Manager Hazel Aniceto, and ACIAR Philippines Assistant Country Manager Mara Faylon. This meeting is in line with the implementation of two projects on OneHealth/EcoHealth that ACIAR will be funding. Focused in the Philippines, the first project will analyze integrated policy options on African swine fever, avian influenza and antimicrobial resistance. On the other hand, the second project will also utilize the OneHealth approach for the identification of livestock management interventions for selected countries in the Southeast Asian region.
The SESAM cohort also included faculty member Dr. Patricia Ann J. Sanchez and Researchers, Dr. Yusuf A. Sucol, Dr. Alma Lorelei DJ. Abejero, Enp. Jessa O. Aquino, Ms. Catherine B. Gigantone, and Mr. Robert Patrick M. Cabangbang. Ms. Jewel Cabardo of the UPLB College of Economics and Management was also present in the meeting.
ACIAR CEO Professor Andrew Campbell stated that this partnership between ACIAR and UPLB-SESAM in the implementation of research is vital in meeting sustainable development challenges in the years ahead.
The ACIAR is the Australian Government's specialist for agricultural research within the Australian aid program. It aims to achieve more productive and sustainable agricultural systems for the benefit of developing countries and Australia through international agricultural research partnerships.
Before visiting the Philippines, Prof. Campbell also went to Vietnam in June 2022 and other Southeast Asian Countries in the past years to explore research opportunities with Australia. (RDAreglado)