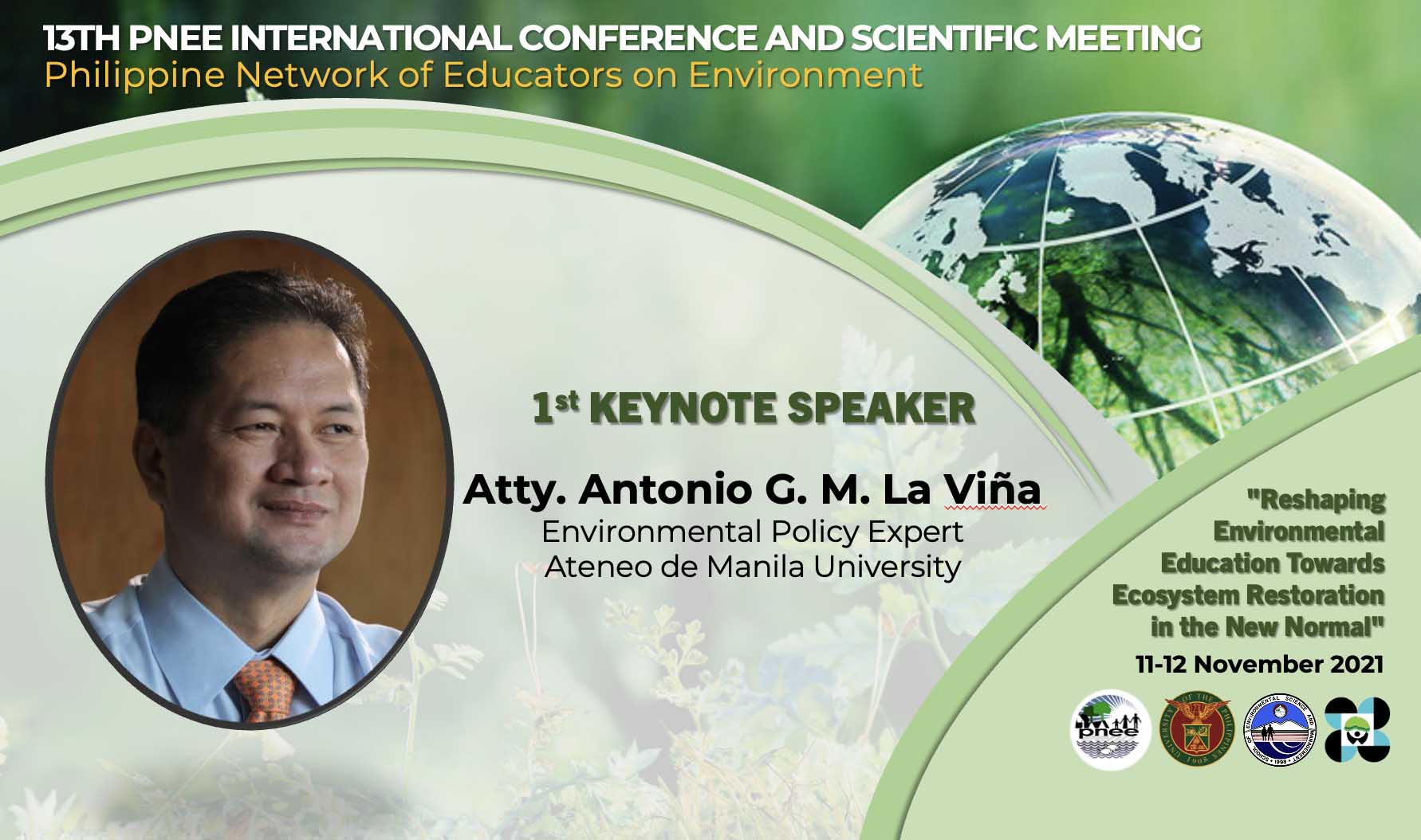 "We are not smart, that's why we are losing in this game of tug of war with the changing climate."
This is how Atty. Antonio GM. La Viña described how we are addressing climate issues in the modern times. "To win the game, and for us to unitedly pull the rope that holds our environment from the verge of falling, we must acknowledge the certainty of climate change. There is no doubt that climate change is occurring, and human activities are to be blamed for this shift brought on by rising temperatures. It is not God's act when it rains excessively." says Atty. La Viña. He further elaborated that "..human actions, such as pollution, the use of fossil fuels, the way agriculture, deforestation, and industrialization, all contribute to climate change. The extreme weather events that happened in the previous years, e.g., Yolanda, Reming, Ondoy, these are the consequences of human acts that could have been avoided 20 years ago if we had made tough decisions to limit emissions."
The 13th PNEE International Conference and Scientific Meeting held last November 11-12, 2021, where Atty. La Viña was invited as one of the keynote speakers, happened simultaneously with the COP26 (Conference of the Parties) in Glasgow in Scotland. The United Nations has been convening global climate conferences for over three decades, bringing nearly every country together. According to the Paris Agreement in 2015 (COP21), nations must lay forth their plans every five years. This means that nations had to submit or amend their emission-reduction strategies, known as nationally determined contributions (NDCs) by 2020. The summit in Glasgow (originally scheduled for 2020 but postponed due to the pandemic) is a vital point in the world's campaign to preserve the goal of keeping global temperature rises to 1.5 degrees alive.
For the aspirations of the COP26 to be realized, Atty. La Viña presented integrated approaches such as nature-based solutions (Nbs), climate friendly agriculture, and climate resilient cities for the Philippines to consider. Additionally, cross-cutting principles such as mainstreaming human rights, integrity of ecosystems, and good governance must be highlighted. From the first COP in 1995 held in Geneva up to the COP 26 in Glasgow, the evolutionary science has become more and more important given that what is applicable back then may not be effective now. For us to realize the 1.5 degrees cap, Atty. La Viña presented priority focus on these areas: (a) accelerating transition to renewable energy, (b) stopping new coal plant including those already approved, (c) stopping financing of fossil fuel projects, (d) divestment from carbon intensive corporations, and (e) litigating climate justice. Addressing the issues on climate change means changing the current political landscape and system.
This is where environmental educators play a role. To teach students proper measures so they will not feel helpless to face big environmental problems. To be able for them to ask the right questions by respecting science, and by being flexible, adaptive, and imaginative.
In the final part of Atty. La Viña's keynote talk, he presented small ways that we can do individually to reduce carbon footprint:
Meat-free Mondays: having your meaty days from 7 per week to 3 or 4 will annually reduce carbon footprint by up to 1.5 tons
Short Tuesday: shorter showers, ditching baths, or reducing showering from 7 – 4 minutes will reduce carbon footprint by 100 kg of CO2
Warm Wednesdays: saving energy at home or turning temperature down by 1 degree Celsius and saving 10% of heating bills
Seasonal Thursdays: Eating seasonal foods since these have smaller carbon footprints because they are grown in natural conditions with few fertilizers
Fuel-free Fridays: choosing a more sustainable way to travel – walking, cycling, taking the bus, or carpooling
The two-day virtual conference was organized by the PNEE (formerly EENP) which aims to promote sustainable development through a strong and independent network of Philippine institutions. The UPLB-SESAM has taken the lead in the foundation of PNEE and has been serving as its permanent secretariat. At present, PNEE has 92 institutional members (state universities and colleges and non-government organizations) and 785 individual members (faculty, and researchers) throughout the Philippines (Rusty Placino).