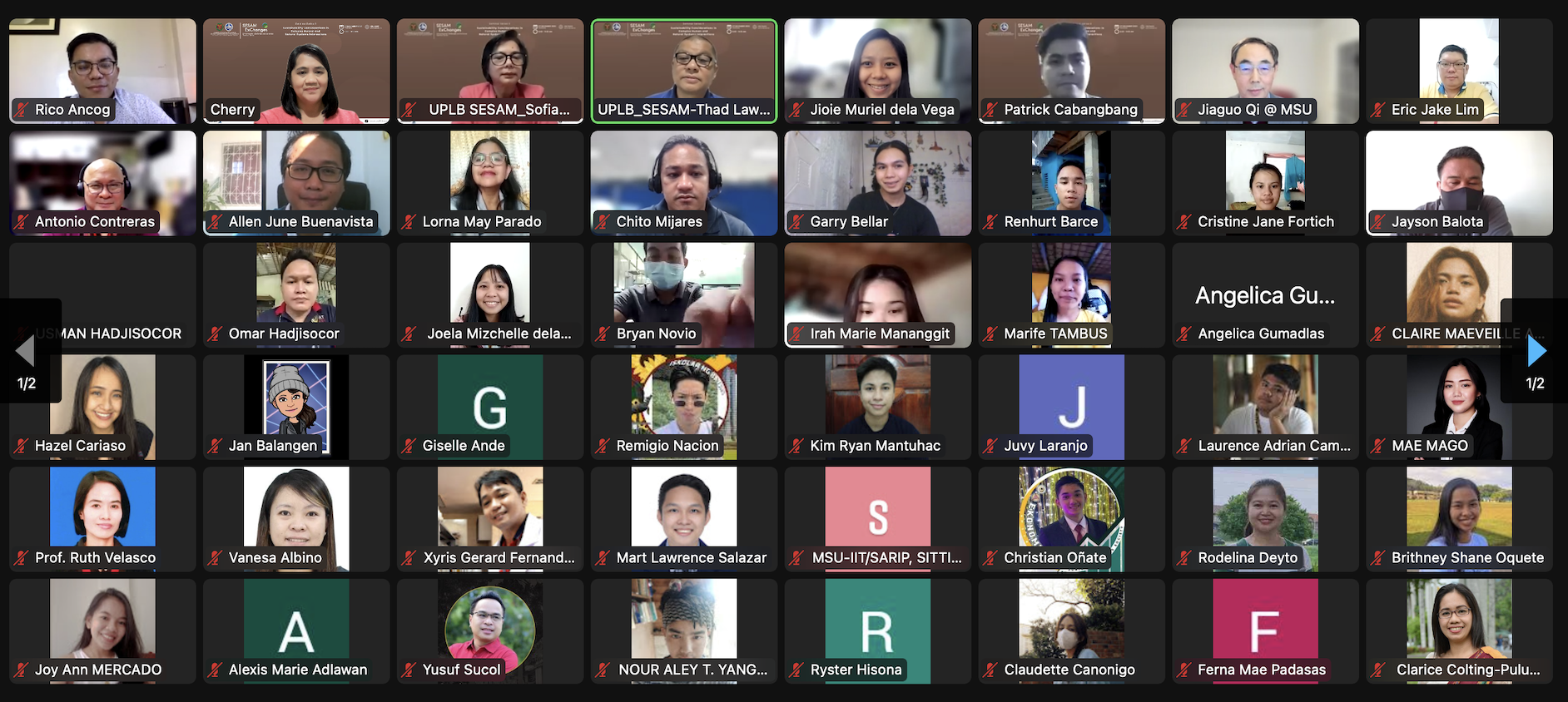 With increasing population, the demand for human essential needs will double in less than 10 years. This challenge was presented by Dr. Jiaguo Qi, during the SESAM ExChanges, a seminar series on environmental challenges and solutions, last December 7, 2022 via Zoom and Facebook Live. SESAM ExCHanges is organized by the Continuing Education and Training Division of the School of Environmental Science and Management-University of the Philippines Los Baños.
Dr. Qi, a professor of geography at the Center for Global Change and Earth Observations and the Department of Geography, Michigan State University, USA has research interests on integrating biophysical and social processes and methods in understanding land use and land cover change and transforming data into information and knowledge.
During the opening program, Dr. Rico C. Ancog, Dean of SESAM, expressed his gratitude to Dr. Qi for sharing his time and knowledge to Filipinos. "Our discussion with Dr. Qi today puts a focus on the nexus concept linking water, energy and food interactions particularly in the most interesting region in the world- the Mekong River" Dr. Ancog said.
Dean Ancog also took the opportunity in his opening message to introduce the latest issues of the UPLB-SESAM Policy Brief Series (SPBS). The two new issues of the SPBS are entitled "A Unified and Scientific Land Tenure System in Forest Lands (Part 1 and 2), both authored by Dr. Antonio P. Contreras, SESAM Professor.
Based on his presentation entitled "Sustainability Considerations in Complex Human and Natural Systems Interactions", Dr. Qi pointed out that there will be a 50% increase in the demand of food, water and energy by 2030. "Food, water and energy are interwoven and not connected simply because they need each other, because if you change any of one of them, others are going to change", Dr. Qi stressed.
Dr. Qi, who is also the Co-Director of the Office of China Programs at MSU and a Project Scientist for NASA's MAIRS (Monsoon Asia Integrated Regional Studies) program, cited that an increase in the number of extreme event in a region could cause in spike in food prices. "If there's a change in the water system, particularly the precipitation, it could affect the food and its affordability, Dr. Qi added.
The most glaring example is the Lower Mekong region, as Dr. Qi mentioned, it represents a complex food, energy and water system. "Rural livelihoods in the Mekong are increasingly facing food, energy and water challenges resulting from climate change and disruptive water resources of hydropower competition", Dr. Qi explained.
For. Sofia Alaira, head of CETD, thanked all who participated in the SESAM ExChanges webinar series this year, including those who attended in this last webinar for 2022. More than 130 participants joined via Zoom and Facebook to watch the lecture of Dr. Qi, live from East Lansing, Michigan, USA. CETD will soon post the schedule of future SESAM ExChanges Seminar for 2023 on SESAM's website and Facebook page.